JYJ arrived in Singapore's Changi Airport at approximately 1PM but only managed to clear the airport and make their way to the hotel around an hour later. The press conference with JYJ was scheduled at 4PM however due to some changes in their schedule, it was delayed until 430PM.
I´ve been using these products to treath erectile dysfunction for a few months now, and I'm very happy to say that my symptoms have disappeared completely. ? If you have a good relationship with your pharmacist, let him know your concerns about drug costs.
For those unfamiliar with JYJ, they are made up of three members, Kim Jaejoong, Park Yoochun and Kim Junsu. Most of you would remember them as members from DBSK but as of right now, they are known as JYJ – Jaejoong, Yoochun, Junsu – crafted from each member's name initials.
They have just released an English language album titled 'The Beginning', where they worked with US producers such a Kanye West and Rodney Jerkins. They also participated in the lyrics writing and song composing process to which they commented that it was pressurising to write songs in English as they are not native speakers but they were not daunted by it.
Jaejoong hoped that their music can cut language barriers and deliver their message while Yoochun felt that it was liberating to express their music in English, hoping that it will bring music to more people and also bring them closer to those who likes their music. Sharing similar sentiments, Junsu wants to build a deeper connection with existing English speaking fans who are familiar with their Korean and Japanese music.
When asked about their feelings when working with Kanye West and Rodney Jerkins:

Jaejoong added that he was really happy to work with top artists and at first they were nervous as they were wondering what kind of music will be produced when working with the Western industries to produce music.
Jaejoong's favourite song from the album:

Questions were open to the press but the management requested that questions should only be regarding JYJ or their album and nothing else. We had the opportunity to raise a question that aroused laughter in the room and Yoochun who understood English joined in. What had caused the room to erupt in laughter? As I was nervous in asking JYJ a question, I quickly asked my question in one breathe. My long question involving statistics left the translator hanging as he could not catch my question. When I was asked to repeat the question slowly, that is what caused the room to erupt in laughter. I admit I was getting embarrassed but the fact that Yoochun was smiling at me and laughing along made my day despite me not being a fan.
Well, fangirling aside, this was the question:
"Warner Music Korea recently revealed that there were 520, 000 pre-orders for your album ' The Beginning' and out of the 99,999 luxury package edition, there are actually 300,000 pre-orders. How do you feel knowing that your fans are supporting you all the way and knowing that you've come this far together?"
Junsu said that he feels very supported by the fans because of the number of pre-ordered albums and he wants to continue on this journey. He feels very sorry that the luxury package edition produced was not even 100,000 and he hopes to repay the fans in a different way. He feels that he has to continue to produce a lot of good music and he will work hard for it. He is again really sorry regarding the small number of the luxury package edition.
I could tell that JYJ was really happy talking about their fans and they seemed really sorry that they could not fulfill their fans' wishes. With our question, the press conference ended and JYJ moved on to a one-on-one session with some of the local media.
When I arrived at the Singapore Expo at around 730PM, there were large crowds gathered outside the venue with long queues snaking until the next hall as fans patiently waited to gain entry into the venue hall.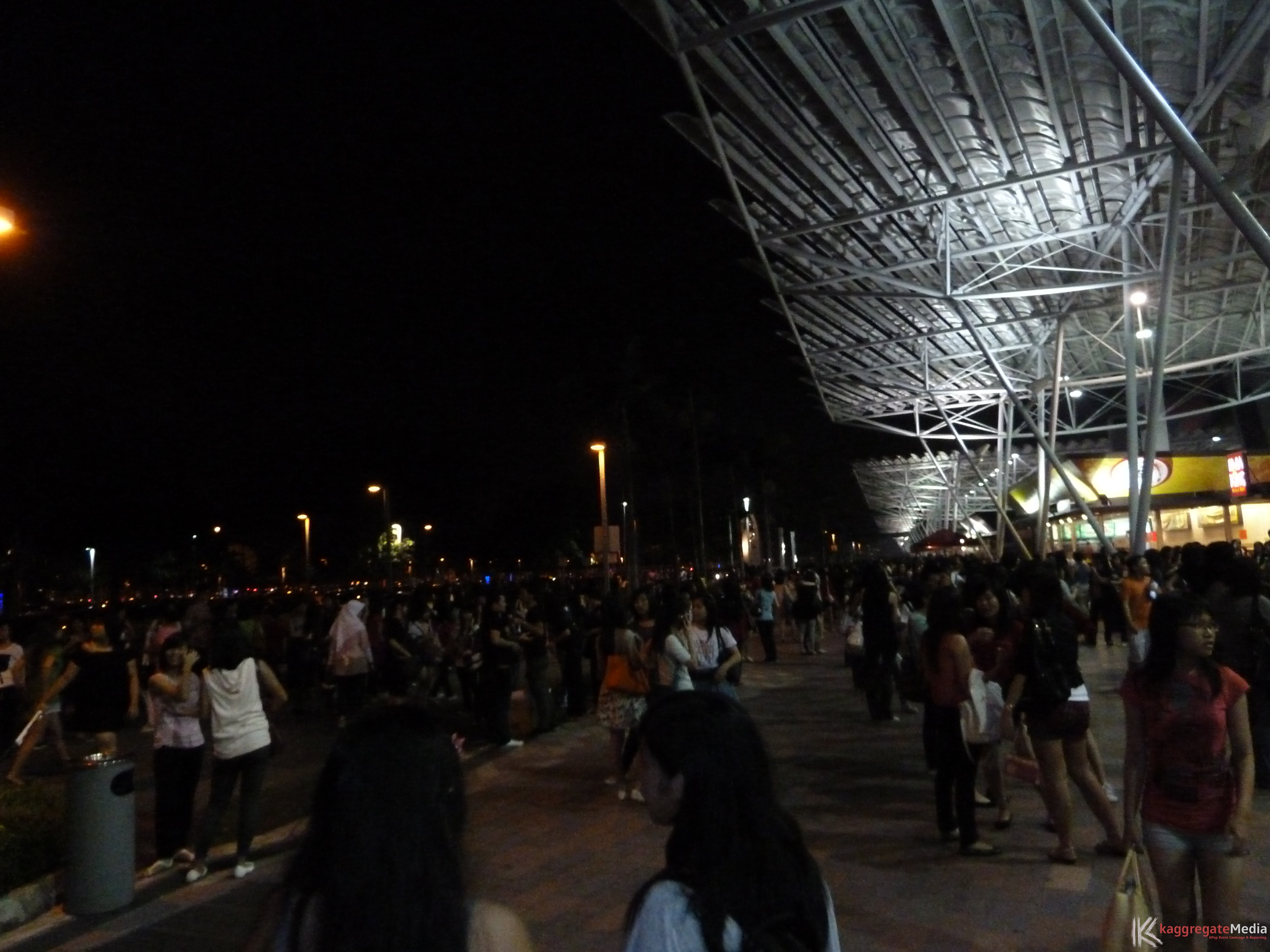 The showcase was scheduled to start at 8PM but earlier, Quest ID had made an announcement that it might be delayed further till 830PM however the show only started close to 9PM. The reason for this delay? For those of you who are unaware, JYJ had just flew in from Bangkok that afternoon before heading for the press conference. They had not rehearsed therefore the delay in allowing fans entry to the venue is due to the fact that JYJ was still rehearsing to ensure that they gave their fans the best show.
True enough, JYJ delivered a great show to the audience belting out 6 songs including their single 'Ayy Girl' and the OST from Yoochun's drama Sungkyunkwan Scandal, 'Found You'. During the introduction session, Junsu and Jaejoong revealed their ideal types. Junsu mentioned that he does not look out for any specific physical features. He just goes for 'the feel' when he sees her and regarding personalities, he likes outgoing girls. Jaejoong was initially shy in sharing his ideal type but later goes on to say that he likes girls who plays the piano. I missed what Yoochun said due to the cheering from fans but I'm sure it is along the line of something about Singapore girls.
The host of the showcase, Ken from Radio 100.3 is a very experienced host when it comes to hosting Korean Pop events. We found out that he was asked to host the showcase at the last minute and given that circumstance, I would actually like to applaud Ken as he did a good job. I have heard about some fans actually bashing him but you have to give him credit for being able to pull it off with such a short time given.
Honestly, the fans impressed me the most during the showcase. Their zest and enthusiasm for JYJ is undeniable and some were even moved to tears upon seeing JYJ appear. The fans wanted to make the Singapore stop a memorable one for JYJ and thus they had the 'W' and 'Keep In Mind That I Love you' project. What is it? I'm sure pictures speak louder than words.
I was personally impressed by the efforts that Singapore fans had put in to show their love for JYJ. I am sure your efforts did not go to waste and I'm sure the boys appreciate what you have done for them. The showcase ended pretty well with most fans leaving happy and satisfied that they were able to meet their idols and with JYJ saying that they will come back next year.
However, there were some issues such as complains about security guards being rude. Fans were also angry that free tickets were given out and VIP fans were disappointed when their photography session was cancelled. In my opinion, I find it quite shocking to hear of the rude staff. Personally, they were one of the most helpful and polite security I have met at a Kpop event in Singapore. But what I experienced does not speak for all present at the showcase.
Also, regarding the free tickets, as a bystander, I feel that Quest ID only did that to ensure that there was a full house for the showcase. I am sure as fans, you also would not want JYJ to perform to a half-filled venue as that might have dampened their spirits. I am not saying that it is fair but it was a decision made and since it has already passed, why still bring up the issue.
I believe that the cancellation of the photography session was acted upon the orders of JYJ's management just as how they had requested for some last minute changes regarding the media. I find it upsetting that fans are throwing rude comments to the organisers instead of asking calmly for an explanation. I am sure the official statement from the organisers will be out and I would urge all fans not to believe anything else other than the official statement.
Well, that is my opinion and you can choose to agree or disagree. With that, I shall leave you with pictures from the press conference and showcase.