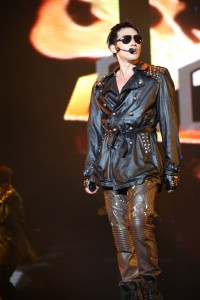 Singapore, 25 May 2011 – The Best 2011 Rain Asia Tour in Singapore ended with a high note on Sunday, 22 May at the Singapore Indoor Stadium.
Approximately 5000 people attended the concert. More than 500 fans from Japan, Korea, Malaysia, Indonesia, Vietnam, USA, and Canada came to Singapore to specially support the Heavenly King.
Audiences were treated with spectacular laser show, stunning song and dance performance, and many up close personal interactions. Throughout the concert, Rain made exceptional efforts to interact with his fans. He even got off the stage to shake hands with fans seated. The concert was so full of spirit that many audiences who were seated decided to get up their seat and started singing and dancing along with Rain. The Singapore Indoor Stadium was filled with fans screams in excitement all night.
Despite Rain's tight performance and travelling schedule, he showed not the slightest sign of tiredness and strain. Rain gave a world class performance on Sunday evening. Fans who followed Rain Asia Tour commented that the Singapore leg was definitely one of the best concerts.
The Best 2011 Rain Asia Tour in Singapore is jointly organized by J Tune Entertainment and CJ E&M from Korea as well as Faith & D Entertainment from Singapore.
Followings are the partners who have contributed extensively to the success of The Best 2011 Rain Asia Tour in Singapore.
Supported By:
Korean Tourism Organization
PUB
Official Card:
OCBC Titanium Card
Official Partners:
Marina Bay Sands
Bugis Junction
Sarang
Carrefour
City Tours
Press release and picture credits: FaithND Entertainment