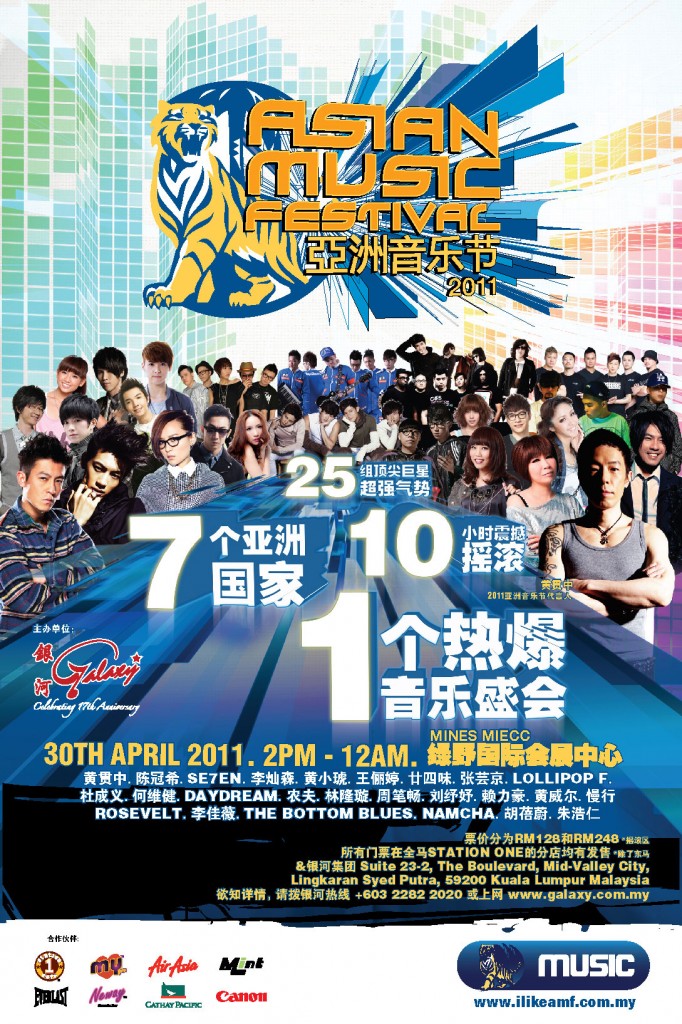 The most anticipated event of the year , the Asian Music Festival™ 2011 is happening real soon at The Mines International Exhibition & Convention Centre (MIECC), Sri Kembangan this April 30th. Organised by Galaxy and presented by Tiger, with an expectation of 10 hours concert features artistes from seven Asian nations include SE7EN from Korea; Edison Chen and FAMA from Hong Kong; Jing Chang, Lollipop F, Kevin Lin and Tiger Huang from Taiwan; Bibi from China; Olivia Ong and Derrick Ho from Singapore; Namcha from Thailand; as well as our very own Suki, Jess Lee and dayDream.


Date: April 30th, 2011 (Saturday)
Time: 2pm onwards
Venue: Mines International Exhibition & Convention Centre (MIECC),
Sri Kembangan, Selangor
Autograph session with selected international performing artists is scheduled to take place two hours before the music festival commences at the outdoor stage area.
That's not all; the celebrity emcees of the festival – Paisley Wu from Hong Kong, and Astro MY FM deejays Mei Yan and Jeff Chin will be going all out to keep all the Asian music fans electrified with the heart thumping atmosphere.
On top of that, Tiger beers will also be served throughout the event – the beverage that never goes wrong with such uproarious music event.
Ticket pricing starts from RM 128 to RM 248 for Free Standing and Rock Zone respectively. To purchase the tickets via online, click here.For phone booking, call 03-2282 2020 (Galaxy Hotline).
The Asian Music Festival™ is strictly for music fans who are above 18 years of age. To find out more information on Asian Music Festival and its ticket purchasing details, please log on to http://www.ilikeamf.com.my or http://www.galaxy.com.my/.
The event partners includes Station One Cafe, MY FM, Air Asia, Mint, Everlast, Neway Karaoke, Cathay Pacific and Canon.