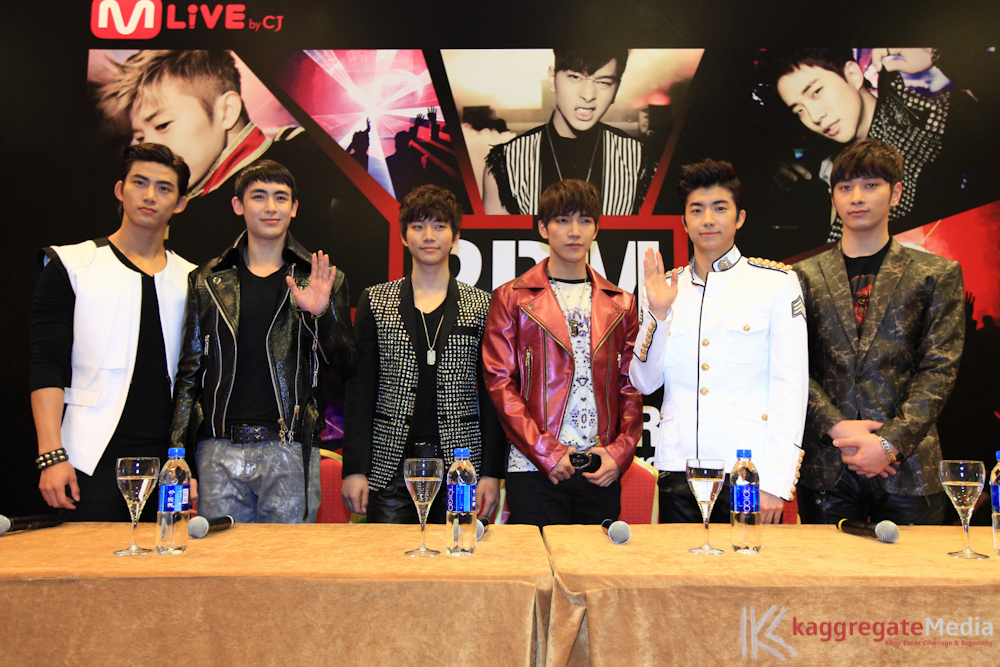 March 9, 2012, Hong Kong – The hottest Korean boy band 2PM has landed Hong Kong for their first ever concert in Hong Kong, namely "M Live by CJ / 2PM HANDS UP ASIA TOUR in HONG KONG 2012", at AsiaWorld-Arena, at 8PM on March 10, 2012 (Saturday). This is the first official visit of the 6 handsome members to Hong Kong and a press conference was held today (March 9, Friday) to meet with the local and regional media friends.
2PM is one of the most popular Korean boy bands with 6 members, namely OK Taecyeon, Nichkhun, JANG Wooyoung, HWANG Chansung, LEE Junho and KIM Junsu, who are famed for their perfectly sculpted body, and stunning music as well as dancing talent. They are nicknamed as the "Beast Idols" and are regarded as one of the most charming boy bands in Korea accrediting to their muscular body, together with their visual-impacting and wild performance style.
All the fans in Hong Kong are hypnotized about the first ever visit of 2PM. On March 8, Thursday night, over hundreds of fans have been waiting at the airport arrival hall for hours, trying to catch a glimpse of the six 2PM members. As soon as their long-awaited idols appeared, the fans screamed at the top of their lungs when they spotted the 6 charismatic members and shocked the whole airport. The 6 members then immediately headed to the hotel under the escort of security guards.
2PM embarked on their 16-shows Asia Tour last year, touring to over 11 cities of 6 nations, including Korea, Japan, Taiwan, Indonesia, Singapore and Malaysia. Over 100,000 tickets of their 9 shows held in 6 cities across Japan were promptly sold out in a record-setting 1 minute! In February 2012, 2PM continued their Asia Tour in Bangkok and Nanjing. All tickets of their 1st ever concert in Hong Kong on March 10 were promptly sold out on the first day of its public sale! With their ever-growing popularity in Asia, 2PM recently announced that they will add another 6 concerts in Japan's Budokan in coming May, breaking the record of K-POP artists to hold concerts in Budokan!
At today's press conference, 2PM said, "We would like to express our sincere gratitude to our fans in Hong Kong, and also all over Asia, for their enormous love and support to us. We are overwhelmed by the support from fans and they have given us the tenacity we need to perform perfectly on stage. We will continue to devote our energy to our upcoming concerts while presenting the most impressive and powerful performances to all the fans!"
CJ E&M, Korean production unit of the concert, also added "We are delighted to bring the vibrant and energetic music of 2PM to different countries across Asia. We have chosen Hong Kong, the music cradle of the whole Asia, to be the grand finale of the Asia Tour. We sincerely hope that music lovers in Hong Kong will enjoy the explosive and spectacular performance of 2PM".
Commenting on 2PM's first concert in Hong Kong, JYP Entertainment, their agency, said, "It is our honor to have the opportunity to bring 2PM to Hong Kong. We are grateful for the enormous love and support from Hong Kong fans. 2PM will surely dedicate the most impressive and powerful performance to Hong Kong audience!"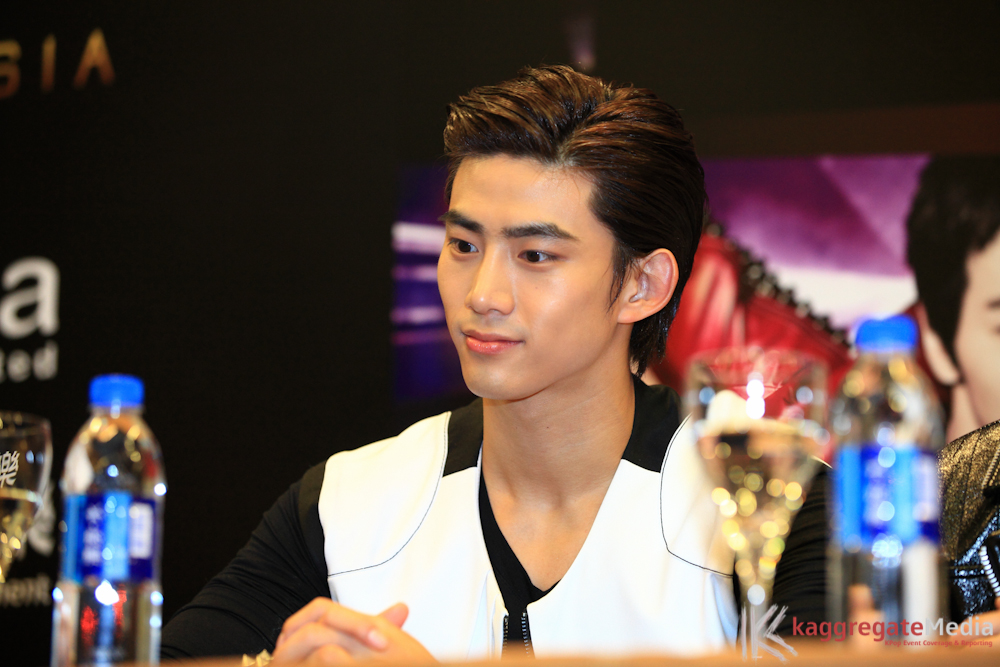 Regarding to their 1st Hong Kong concert, 2PM also added, "We are thrilled and are really excited to hold our first ever concert in Hong Kong! It is heartening to know that all tickets of the concert were sold out promptly! The Hong Kong concert is very special and meaningful to us as it is the last stop of our Asia Tour. We promise that it will be one of our best ever shows. We will dedicate the most stunning stage to our beloved fans and show everyone the unique charm of 2PM onMarch 10! We hope all Hong Kong fans will have an enjoyable and memorable night with 2PM together!" Additionally, 2PM revealed that they will focus on their music production after finishing their Asia Tour.
It is the first visit of all 2PM members to Hong Kong though some individual members came here before for works. They are thrilled to hold their 1st concert in Hong Kong and hope they can have time to taste the delicious local food, as well as visit the famous scenic spots, particularly seeing the fabulous night view of Victoria Harbour.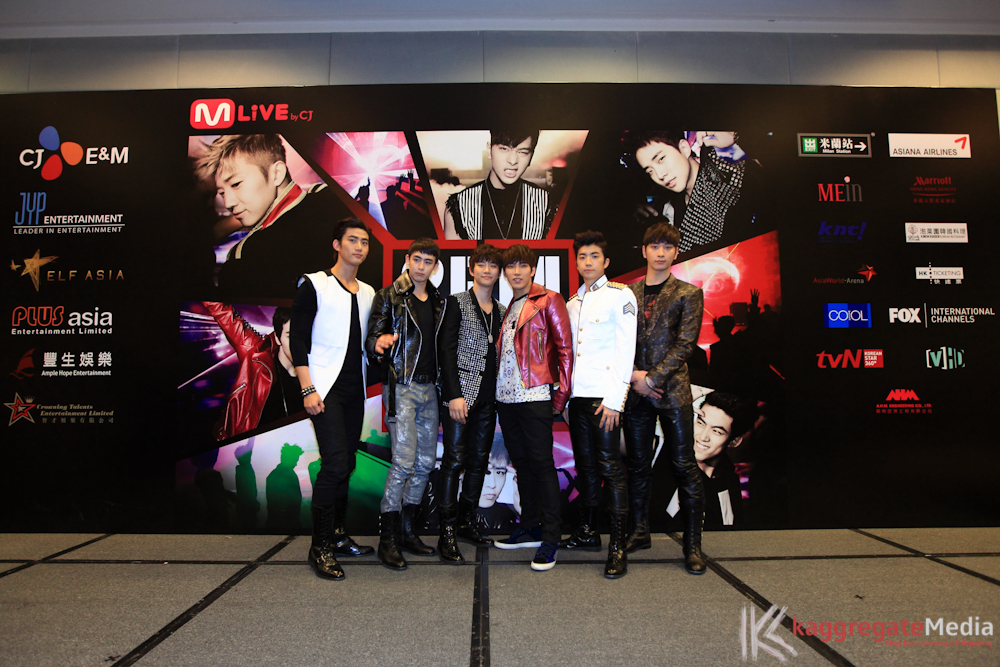 "M Live by CJ / 2PM HANDS UP ASIA TOUR in HONG KONG 2012" is sponsored by Milan Station, Asiana Airlines, Me In Ltd. and Hong Kong SkyCity Marriot Hotel. This event is also fully supported by KNT (Hong Kong), Kimchi Garden Korean Restaurant, CASA Lounge, AsiaWorld-Arena and Hong Kong Ticketing. COOL Water is the Official Drink of the event. FOX International Channels, tvN and Channel [V] are the media partners.
ELF ASIA is the organizer. PLUS asia, Ample Hope Entertainment and Crowning Talents Entertainment are the co-organizers of the event.
Photos provided by organizer