3rd Wave Meet The Fan with Alexander and Brian held on the same day as the press conference, starting from 8PM. We have fans around the world in the hall, example like fans from Thailand, Japan, Indonesia and so on. This is a total surprise in our expectation. Let's make this short with words but more on the images.
International fan representatives were pre-picked and they were lucky enough to stand on the stage with both Alexander and Brian along with Pastor Johnny. A little quiz session for the fans about their idols and moved on to their request. Basically any request for any one of them Brian and Alexander.
There was a Japanese representative and she was kind and decent enough to request for just a stare with Brian out of everything. Moving on to the other fan representatives.
One that caught everyone attention. She is one loyal fan to Brian. She idolize Brian for more than 10 years and she is right now for Brian. When it is her turn, tears dropped after she told us her story with Brian. A "Fly To The Sky" song title spoken out from her and even Brian doesn't recall he sang it. Her request was simple, just a photo with him. Brian gave a warm hug from the back while having the photo opportunity with her. This scene totally moved everyone.
How about a dinner with the idols? Yes, the organizer even had this set up prepared for the fans. Although it was just a simple dinner with a bread and bottle of water, I am sure the fan has the best experience in one night.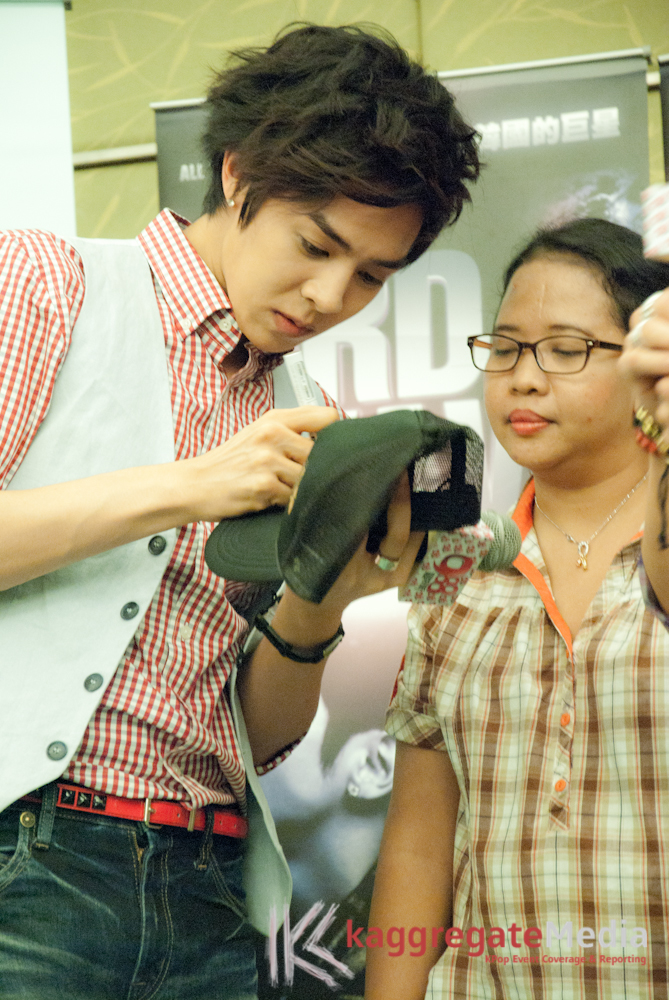 Small gifts were given to the fans and Brian proposed to give out 3 of their necklaces to the best 3 fans. Alexander signed his trusted cap and handed to one of the lucky fan also. Followed by a group photo session. After this, it is time for Brian and Pastor Johnny autograph session while Alexander was out for something else.
The fans queued eagerly for Brian and Pastor Johnny's autograph. This Meet The Fan session is a success. KAggregate.com is grateful to get our hands on an autographed 3rd Wave album. Would you guys like to have it? We might giving it out to the fans. Tweet us with "I want the autographed 3rd Wave album by Brian & Pastor Johnny from @Kaggregate" (without quote) or comment below with the same thing.
Thanks to Starpark and PD&N Music for this great opportunity also.
More photos below.