Bang and Zelo's First Asia Tour kick started in Malaysia and Kaggregate is proud to present you our coverage of the press conference and event organised by M.E Malaysia in collaboration with Latina Marketing. (Do keep a lookout for our exclusive interview with Bang & Zelo!)
The press conference was held on Friday, 13 January 2012 at Fullhouse, Sunway Giza Mall. When we arrived a few fans were already waiting outside the venue to catch a glimpse of Bang & Zelo despite it being a weekday. Read our post below for the transcript of the Q&A session and enjoy the videos and pictures!
Qn: We know that Zelo is the maknae, but he is very tall. So do the other members feel worried that one day he's going to keep growing and tower over all of you?
Zelo: Now I am over 180cm but I'm still growing so I'm kinda worried about that actually. And the other members are quite jealous of my height.
Qn: So some of the media say that Bang Yong Guk & Zelo have the similarities to GD & T.O.P. What do you think about this?
MC: So maybe today we just need to focus on just B.A.P.
Qn: Can you briefly introduce everyone in B.A.P?
BYG: Himchan is an MC at MTV's "The Show", Youngjae is the smart one, Daehyun is really good at singing and Jongup has a really good body.
Qn: I know both of you have an age gap of 6 years, so how do both of you get along?
BYG: I haven't overcome the age gap but we love the same music. So we'll connect with each other through our music, our songs and other hiphop songs.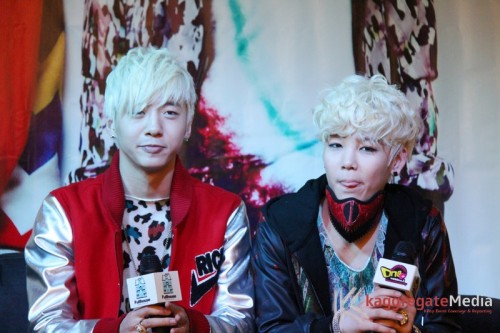 MC: It is pretty rare for a band to have their own tv show before the band is officially launched to the public. So what is the feeling knowing that B.A.P is one of the exceptions?
BYG: Tadah! is kinda a new concept of a reality program, but we are trying to show ourselves as a different character. So before we launch our B.A.P, we're able to show our charms to our fans. So we are happy to be in the show.
Kaggregate: Tadah! It's B.A.P is a show about B.A.P coming down to earth as aliens. So if each B.A.P member can have an alien name, what would you give to each member?
BYG: We don't have an alien name yet but we have our own characters. Firstly, I am the one who is crazy about work and Zelo is the one who I made as a robot. Eventhough Himchan is the leader, but he does not have much charisma to control us and Youngjae is the smart one, Daehyun has a ninja concept and Jongup is the physically nice one but mentally a little…
Qn: I can see that both of you are blonde. Can you tell us why?
BYG: It's Tadah!'s image as aliens so we will have blonde hair but we are also showing that we are B.A.P with blonde hairs. But it's actually the director's orders.
MC: Lastly, share some words with your fans in Malaysia.
BYG: First of all I would like to thank everyone for your encouragement and your support through the SNS and internet messages so we are still happy to receive those kind of reaction and fans' love. And we are really happy to visit Malaysia and we are looking forward to visit Malaysia as B.A.P with all the members of B.A.P. Thank you so much, I love you fans.
The press conference ended well with a luxurious buffet lunch and both Bang & Zelo personally came to greet each media present at the lunch session, leaving the impression of really polite and humble idols.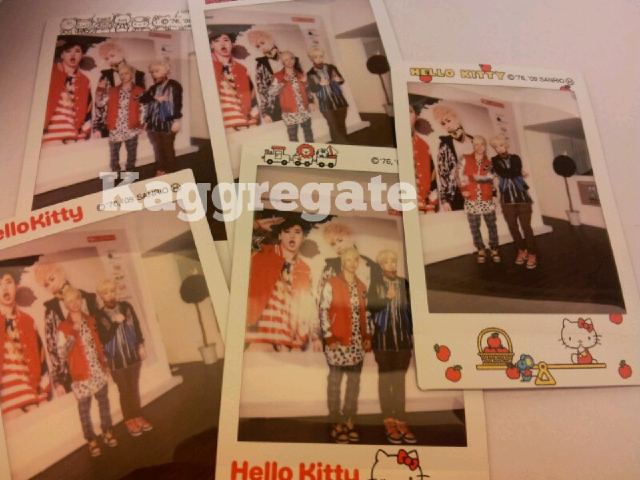 Want to win exclusive Bang & Zelo polaroids? We are giving away 3 polaroids! Here's how to enter:
1) You must be following @Kaggregate on twitter
2) Tweet this ONCE  "Want to win exclusive Bang & Zelo polaroids? Follow @Kaggregate and find out how here http://www.kaggregate.com/featured/bang-and-zelo-first-asia-tour-in-malaysia-press-conference/! "
**Multiple tweets will result in a disqualification!
3) Like our facebook page:  HERE
4) Paste this on your facebook status "Want to win exclusive Bang & Zelo polaroids? Like @Kaggregate and find out how! "
**Make sure that Kaggregate is tagged to your post!
Deadline: 4th February 2012 11PM KST
We will choose 3 winners through a random generator on 5th February 2012!