These three words describe a Korean boy band in a fair amount on their performances on stage. On Friday night (July 6, 2012), we have B.A.P by TS Entertainment in KL Live, Life Centre, Kuala Lumpur. Being a full attendance with members Bang Yong Guk, Him Chan, Dae Hyun, Young Jae, Jong Up and ZELO have electrified the fans or called 'Baby' in a 2 hours long show.
Showcase started off with a great concert-like intro. In a dark stage, barely seeing few person coming out in a dark robe. A blast, B.A.P came out with "Power" performance. It is also their latest second EP title song which they concluded their promotion in Korea last month. The signature spray cans brought up to the stage too during the dance break.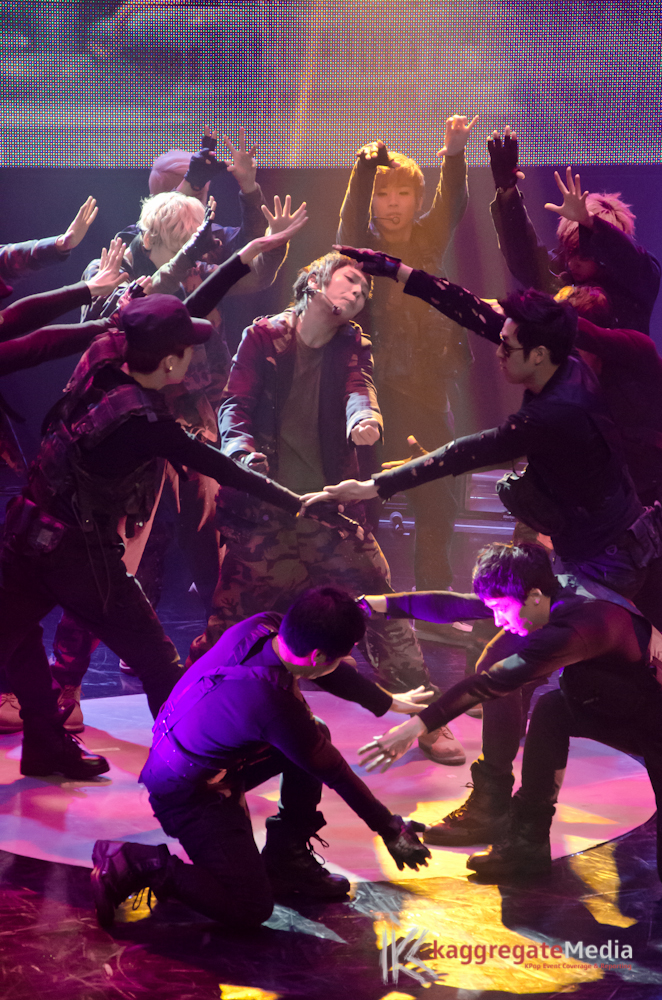 Continue up with "Unbreakable" and "What The Hell" which all the Babys are familiar with them and chanted their lungs out. In a smaller scale venue, the echoes put up even greater power and outcome to their that greatly get them on position. It was great to see them from Bang&ZELO to a group of B.A.P in Malaysia back then as we brought up a coverage to it also. Were you there?
Quick break, members greeted briefly. Not to forget their one-and-only "B.A.P. Yes, Sir!" as Bang Yong Guk & Dae Hyun also went backstage to prepare for their next performance. Leaving the others on stage to give out all their fanservices as much as their could in that moment. I bet the fans almost fainted but still stay strong for them.
Short talk. You must know Bang Yong Guk released a song titled "I Remember" which collaborated with B2ST Yo Seob back then. Yes, he brought it up and performed it on stage with Dae Hyun. Personally, I really love this song because it focused on Yong Guk's signature deep-toned vocal/rap with a short verse from the partner to pump the song up.
After "I Remember", we have the youngest member ZELO to perform his song with Bang Yong Guk – "Never Give Up". Yet Yong Guk wasn't there but leaving ZELO to outstand himself on stage with the backup dancers. He came out while skateboarding with a set of school boy look, and *Boom* he put up a great performance without knowing he's a '96 born. During the dance break, he did some amazing B-boy move there. Also flipping his body 360 degree which wow the fans and medias.
After a very school-ish outfit performance, they continued up with a much more manlier performance by Jong Up. He did a medley dance performance, compiling up with Michael Jackson and Chris Brown's songs. He mentioned he admired their dancing skill too during the Q&A session. That we will get up with it later on.
Going down with a surprise, Young Jae came up on stage and perform a verse of Justin Bieber's "Baby" alongside with Him Chan playing an acoustic guitar. Then blasting out with Dae Hyun and Him Chan, the trio express their love to their Babys in front of them. Fans went crazy, literally, and screamed like no tomorrow. After this, they had a short break while MC from OneFM giving some announcements and speeches.
Q&A session – in a very unique way. Instead of MC or any medias questioning them, they had a few fans that came up with questions that got taped on the board for the boys to pick. Interesting question or should it be a request like getting one of the member, Dae Hyun to show his abs but he promised to do so in the future visit. For this section, we have a short clip coming up, stay tuned for it. Again, MC teased the fans by questioning them "Will you be there if B.A.P is coming back to Malaysia for a larger scale concert here?", heated the atmosphere up.
Sitting still in their stool, white paired with some dark formal coat, members 'cheating' the fans with "Lie Lie" that recorded in their latest EP "Power". A soothing music that somewhat calm the fans down or the other way around to melt their hearts. "Secret Love" is then brought up with a slightly less movement choreography.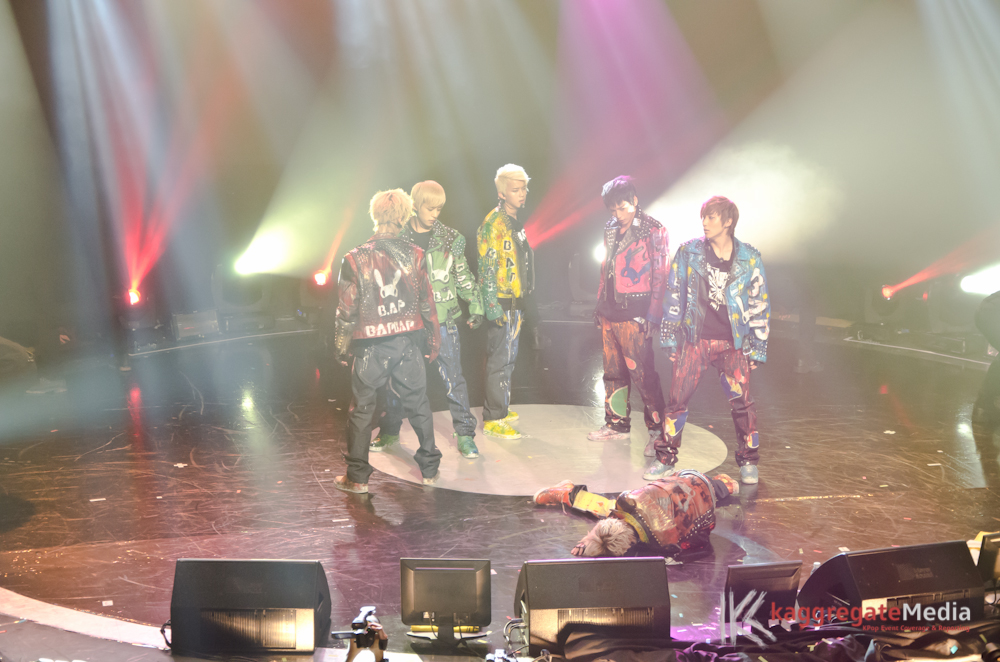 Coming to the end (quite), they had their debut song "Warrior" as last which displayed their very powerful warrior spirits on stage. The impressive strong stomping and stepping, I think it could break the stage down soon. Nothing further I could describe which this showcase is splendid with the 6 members. By holding an autograph session, it completed the showcase in Malaysia stop.
We hope they could be here again with a large scale concert. Don't you agree Babys? Comment below as more photos are coming up, and don't forget about the video Kaggregate going to be posted up on our Youtube (http://www.youtube.com/KaggregateVids) here specially for y'all. Yes, sir!