Twin Towers @live 2012 is back. It was announced after the cancellation of F1 Rock Concert that was schedule to have appearance of Kylie Minogue. What brought the heat up was the arrival of Girls' Generation on the first day (March 23). In a such short notice, the girls were able to attend and perform on stage of Malaysia. Twin Towers @live brought up few artistes as highlights like Nicole Scherzinger, Kelis and Orianthi.
Soon after the spread of it, SONEs (fans of Girls' Generation) were gathered up and tried their best to purchase Golden Fan Zone & Premium Fan Zone passes to see their idols in a nearer distance and better view even though event was intended to be free-to-public.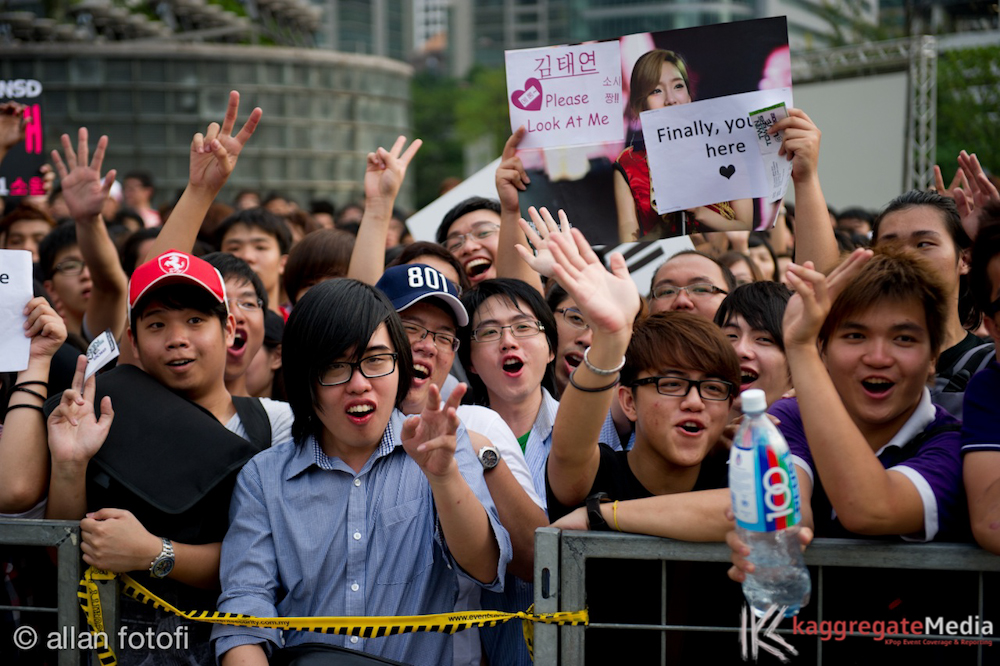 On the wonderful afternoon of March 23, it rumored Girls' Generation will be arriving in Malaysia on a departure flight of 11 in the morning from Incheon to Kuala Lumpur. It was reported to have 8 members to perform instead of 9 members due to one of the member, Kwon Yuri had a drama filming schedule in her new drama "Fashion King".
When Kaggregate Media team on scene, we witnessed over thousand of fans gathered and waited for hours and hours just for the girls. We believed that over 90% of the audiences came for Girls' Generation as this is their very first time in Malaysia after their second Asia Tour around Singapore, Bangkok and so on.
The fans or particularly mysone.net (Girls' Generation fanforum based in Malaysia) prepared a special project for the girls' first visit. "Finally, you are here *heart-shaped sign*" printed on white papers (as seen on picture above). Forum even provided the papers on scene to everyone, which was totally remarkable to mention for their effort to put up this project. Banners from a group of fans named after LYN.net SONE Club put up their banners in effort to display their love to the girls too (can be seen on below).
Around the time of 9PM, emcees were teasing and finally announced that the girls will be on stage in a minute. 8 members of them stepped out from backstage, beautifully dressed in white. They began with their latest title song 'The Boys'. The fans even gave their best on chanting, especially the part where they were suppose to chant out "GG" in the beginning of the song. Electrifying dance performance that the girls indicated 'to bring the boys out'. Don't worry fan girls, we believed they won't forget you all on scene!
Performance followed by 'Genie', the girls quickly get into their formation. Legs sweeping choreography with the verse of "Tell me your wish," wishes from SONEs were totally granted. After it, the members introduced themselves officially and greeted thousand of fans during the break. Sooyoung even greeted in Malaysia's mother tongue, Malay!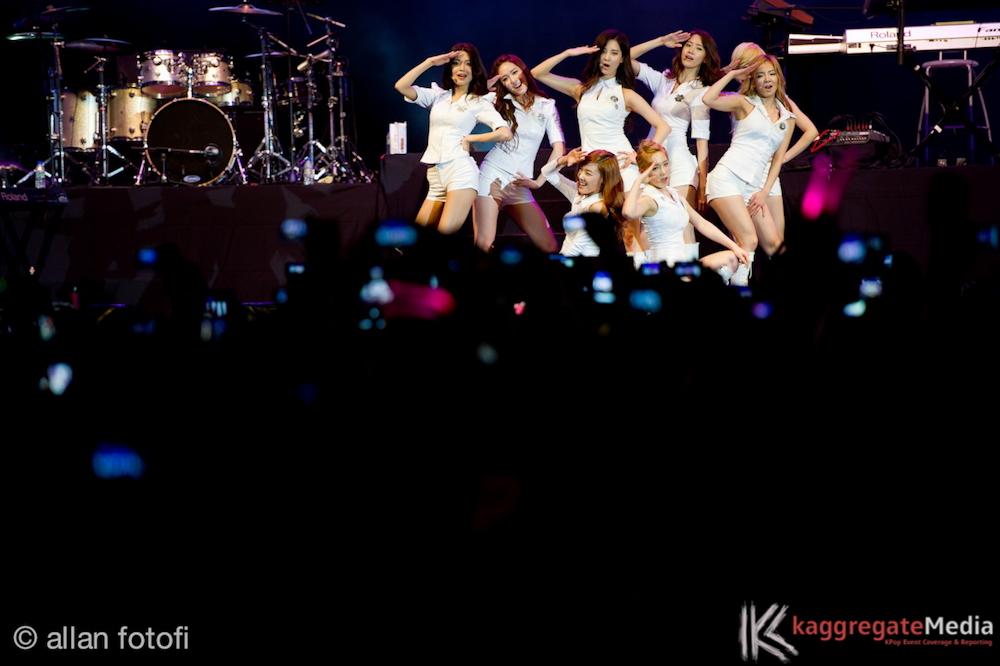 …continued with few of their hits such as 'Hoot', 'Run Devil Run' and 'Mr. Taxi'. The 8 members flawlessly covered the absence of Yuri in their performances. Energetic dances and powerful vocals from each members, although there was a slight technical problem on the audios.
Lastly, their 9-winning streaks song on KBS Music Bank 'Gee' was also performed as their final song in Girls' Generation's first "invasion" in Malaysia. Twin Towers @live 2012 did not stopped there while SONEs left with a huge excitement and had Malaysia finally been recognized by them. Total of 6 songs were performed by them on March 23, what a wonderful night to be remembered. They even mentioned they would came back with Yuri too! Cheers SONEs!
Photos are taken by special contributor, Allan Lee as our photographer and together with photography gear supplies by Ament Chan
More photos can be found below.