The nine beautiful ladies of Girls' Generation arrived in Hong Kong on the 14th of January for their first concert in Hong Kong on the 15th. We were lucky enough to be invited by GMusic to attend their press conference at the Sky City Marriott Hotel.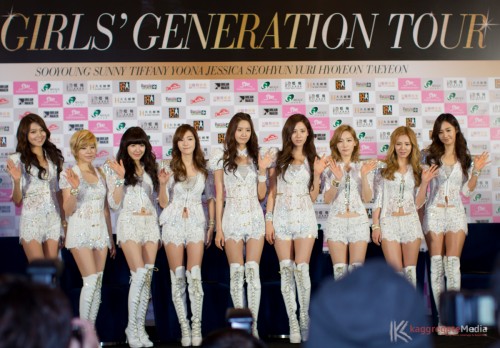 The girls were excited to be in Hong Kong to see their fans. Yoona and Jessica revealed that they have been to Hong Kong before for vacation, but it is the first time for the other members so they would like to go sightseeing and shopping in Hong Kong. However, their schedules were very tight so they hardly had the chance to explore Hong Kong. Apart from sightseeing, they would like to try traditional Hong Kong dim sum as well, which the organizers have prepared for them.
They also talked about Yuri and Jessica's future acting plans as they were recently cast in "Fashion King!" and "Wild Romance" respectively. Jessica started her first filming day just yesterday.
Before Girls' Generation came to Hong Kong they have intesified their rehearsals and tried to learn some Cantonese as they would like to interact more with the Hong Kong SONEs. They would like to give a perfect and professional performance.
The organizers were kind enough to prepare a cake for them in honor of their first concert in Hong Kong. The organizers also gave them Chinese New Year decorations as it is coming up soon.
Video after the break and stay tuned for the concert pictures!