On June 3rd, the beautiful and charming Jang Keun Suk arrived in Malaysia and had his very first "The Cri Show" in Malaysia the next day. The show was started at 7p.m in a chilling Plenary Hall, Kuala Lumpur Convention Centre and organized by Rhythm Land.
Performances were set to 4 parts – Jang Keun Suk, Kang Mu Kyul, Hwang Tae Kyung, and Lounge H.
During the interview, Jang Keun Suk interacted in English with the MC and the fans. It was fluent but of course he can't really speak in English all the time so a translator was beside him and translate them to everyone. He even showed the fans a short video diary and he stated it was the record of his life. He added on with "Cause I'm gonna be old".
Followed by a slideshow that was showing his photos taken by his manager in Belgium and London. The contrast of every single photos shown were absolutely attracted the fans' full attention into the screen. The MC asked him, "What is CRI?". "CRI was original from the word Critical, and I want to show a critical side of myself to everyone", he answered. They even talked about his recent schedule. Jang Keun Suk said he is still filming a movie titled "You Are My Pet" and he had to work for more than 12 hours for the movie. Fans showed a depression tone because he had to work for long hours.
The following parts were about his characters in the dramas, Marry Me, Mary and also the most popular You're Beautiful – Kang Mu Kyul and Hwang Tae Kyung. MC questioned him once again with "What's the difference in Kang Mu Kyul and Hwang Tae Kyung?" Jang Keun Suk thought for a while and answered, "Both Kang Mu Kyul and Hwang Tae Kyung characters have their individual professionalism."
On the update on our site for Jang Keun Suk, we mentioned about Lounge H and it was really here. Jang Keun Suk tagged with Big Brother teamed up as Team H and brought the crowd high enough till their feet were non-stop jumping and shaking their body. Big Brother shouted, "Put your f*cking hands up". The atmosphere from the first in the hall was definitely changed when Lounge H was introduced, it became into a club-like venue. "Malaysia is f*cking awesome", Big Brother praised. Jang Keun Suk asked why that Big Brother kept using the word 'f*cking' and he clarified that he meant Very Very Very Very but it sounds not comfortable so he used 'f*cking'.
At the end of "The Cri Show", Jang Keun Suk came out with a shirt that " I LOVE FANS" printed on. It was really cute and he sang off with his last and encore song, Promise.
Songs performed (arranged accordingly)
1. Let Me Cry
2. Oh My Darling!
3. 부탁해, My Bus!
4. Hello Hello (acoustic version)
5. Hello Hello (band version)
6. 여전히 (Still)
7. My precious
8. Promise (encore)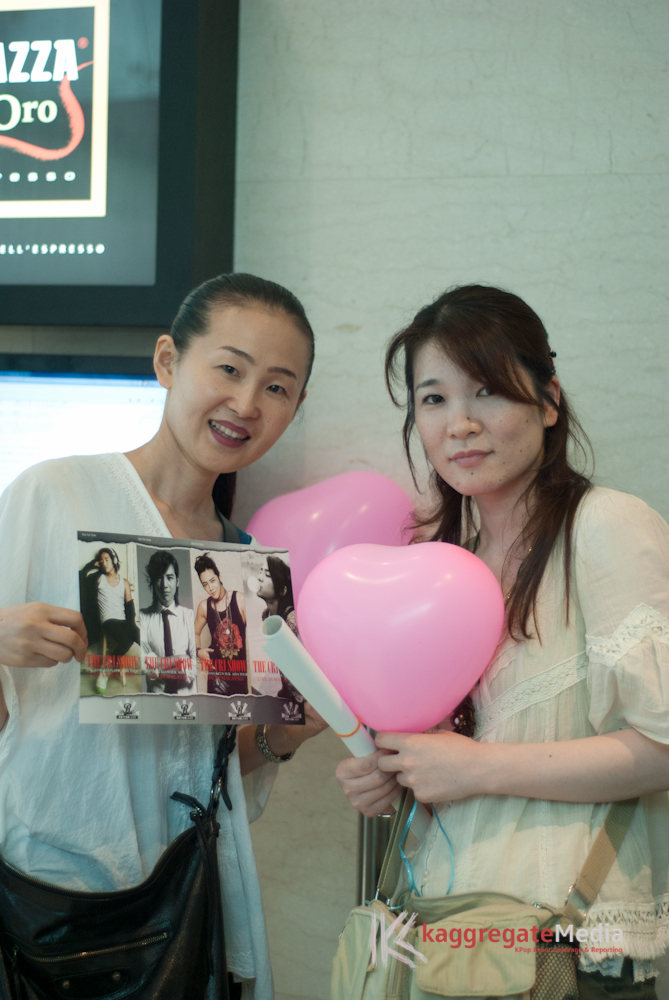 Two Eels from Japan were spotted before the show was started!
Photos by Calvin, the telephoto photographer that took these where we were sat at far.