Approximately 9 hours after press conference in the morning, U-KISS headed to Pavilion and had their first public showcase inPavilion KL, Malaysia. Grey sleek coat on, they came to the stage and greeted with their signature "We are… U-KISS!" and followed with individual intro greetings.
First session, 7 fans' questions picked by each members and invited to stage and read the question to the members respectively. Some of them sang a few sentences to the fans, as AJ did the rap from 0330, with the most recognizable sentence in the lyrics – "Don't deny our R square pi."
Eli gave a warm hug to one of the fan (photo above), lucky fan indeed. The fans were given an autographed poster each by all members on stage, guess the others were kinda jealous. But next up, 7 U-KISS members picked another lucky 7 fans to stage and had a game session. They required to imitate the dance from Man Man Ha Ni and Bingeul Bingeul. One winner were picked, and she can had a polaroid group photo with the members on stage.
Eli were picking the fans carefully for the dancing game (photo above). The lucky fan which mentioned had the chance to have a group photo with U-KISS (photo below). I am sure the other KISSME are envying right after looking at the picture.
A big surprise for two June birthday babies, they are AJ and Dong Ho. Both English and Korean 'Happy Birthday' sang by the fan crowd, cake and presents were prepared with hearts and passed to both birthday boys' hand directly. Candles blowing after making a wish (photo below). "What are the wish you wished", questioned to Dong Ho and he replied that he wished for a concert in Malaysia soon. Fan scream volume just gone higher.
Moved on to the performances, 4 songs performed in total. It was quite disappointing after receiving the information of 4 songs to be performed, but all Dong Ho, Soo Hyun, Eli, Kevin, AJ, Hoon and Ki Seop put on a spectacular and awesome show till the end. I suppose it was no-regret attendance to all the KISSME. Performance photos and videos below.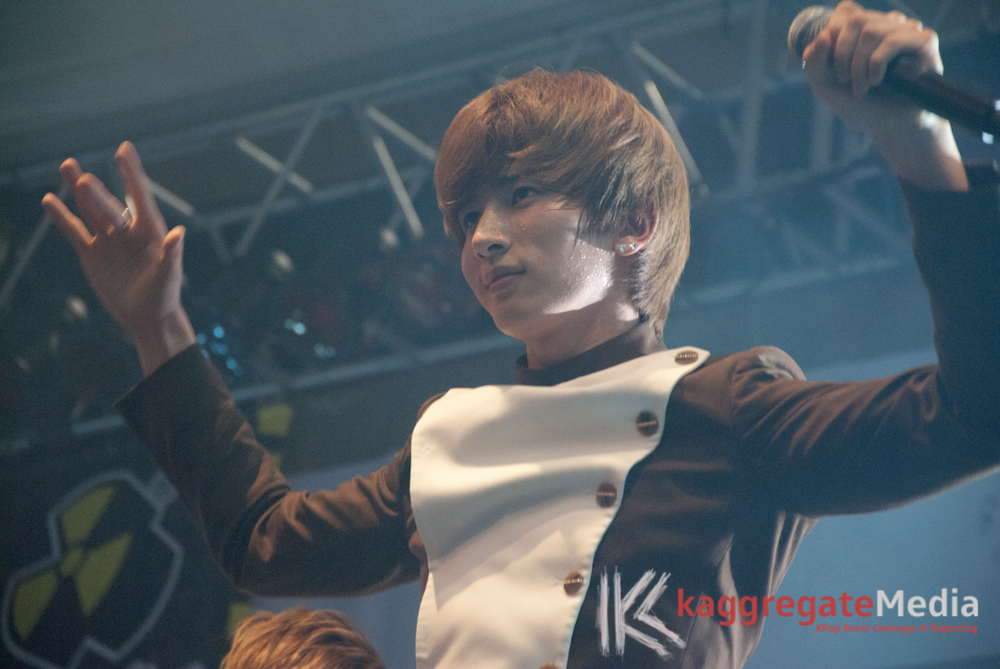 1. 0330
2. Man Man Ha Ni
3. Shikuro!!
4. Bingeul Bingeul
At the end of the show, U-KISS gave out the albums and posters to the selected fans that bought Package 650 and 480. That's all about it, more photos below!
"0330"

"Shikuro!!