After the take over from Radioactive and joint organizers, Redstar Presents and Marctensia in this "Bran New Kiss" showcase of U-KISS, the press conference was held at Daorae Korean BBQ Restaurant located in Desa Sri Hartamas. We were glad that invitation was sent to us and able to attend the press conference earlier this afternoon.
Members of U-KISS including both new members AJ & Hoon were pleased to autograph the framed poster and presented with few presenters of the showcase – Radioactive (Presenter), Redstar Presents (joint organizer), Daorae (official restaurant) and few others. Kevin (photo above) posing after signing the poster. While below showed Radioactive with U-KISS holding the poster.
Moved on to Q&A session, MC asked who has the best imitation and all of the members' fingers were pointed at Eli. Medias were able to witness Eli's pigeon face imitation, followed by with a elephant sound. It was definitely realistic – like a real elephant was around. Both dorks at the far left (photo below) laughed with a explosive reaction, especially Soo Hyun, the all-time hyperactive.
There was one question regarding about Rocketboxx (The international forum of U-KISS). "Do you guys visit Rocketboxx", fan questioned. Kevin replied, "Yes, we do." Hope that the KISSME are satisfied with the answer as U-KISS do really visit the international forum.
The lyrics composer of 0330, AJ were questioned with "What's the meaning of 'R square pi' in 0330" also. AJ of U-KISS (photo below), the fresh member after the absence of Kibum and Alexander, with another new member, Hoon.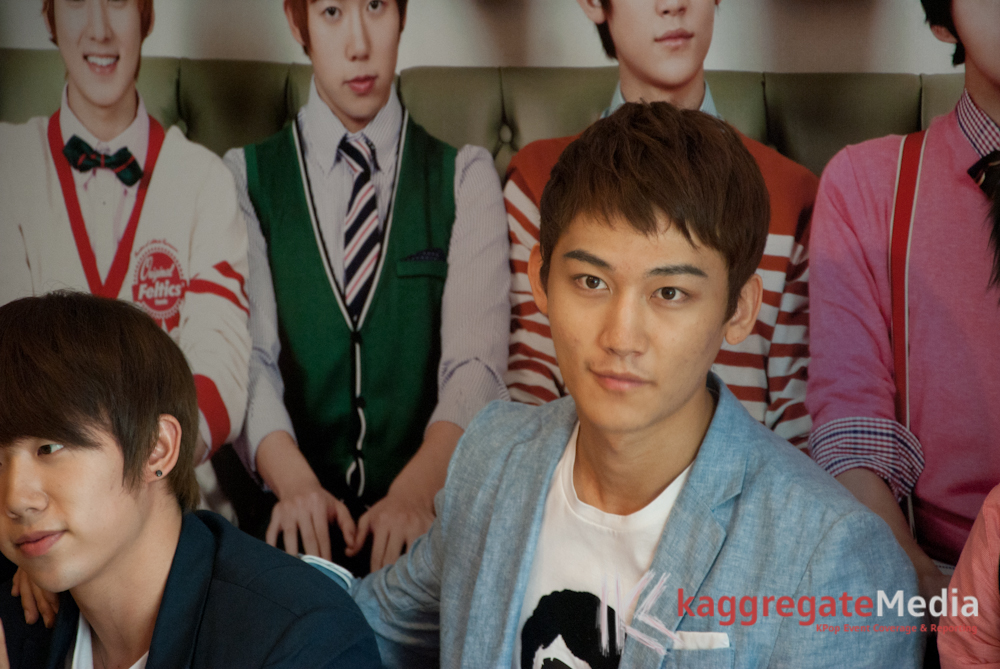 Stay tuned with Kaggregate.com as we will bring you a great coverage on their showcase in Malaysia, and we promised with more photos will be published and to be shared.