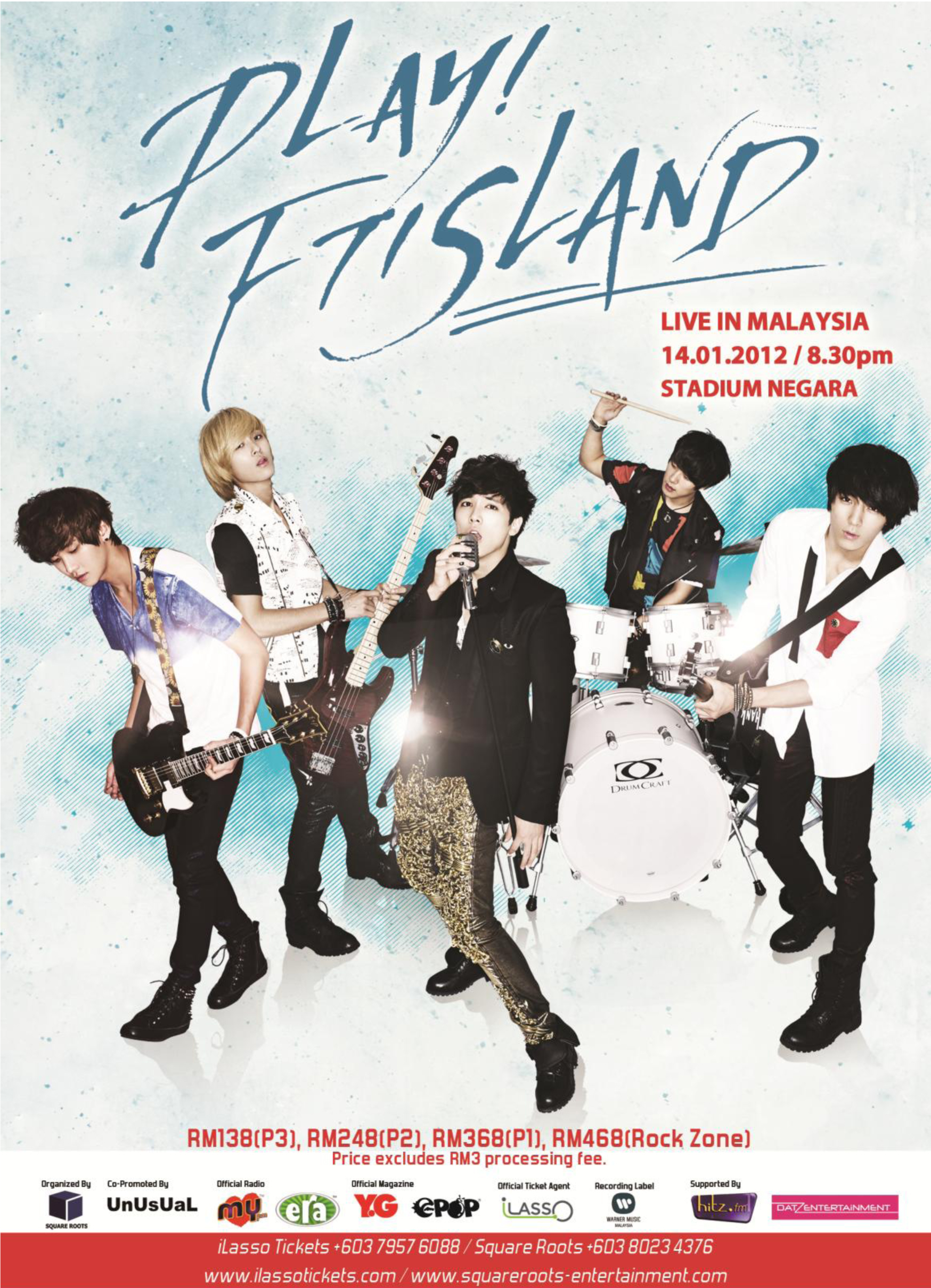 FTISLAND, the world famous Korean boy band will be coming to Malaysia to perform their first solo concert named "2012 Play! FTISLAND Concert in Malaysia" at 8.30pm, 14th January 2012 in Stadium Negara, Kuala Lumpur. The "Play! FTISLAND" concert tour in Malaysia will be the 2nd leg after Japan and the 1st amongst Asean countries.
The 2012 Play! FTISLAND Concert in Malaysia is specially conceptualized by the FTISLAND members for their fans. This includes song selection, stage design, overall direction and performances. Fans will be able to sing along and be absorbed by FTISLAND's music at the Rock Zones as the T-shaped extension will allow them to view their favorite band.
FTISLAND – short for FIVE Treasure ISLAND, is a Five member South Korea band. The members comprise of vocalist Lee Hong Gi, bassist and vocal Lee Jae Jin, lead guitarist and keyboardist Choi Jong Hun, guitarist and vocals Song Seung Hyun and drummer Choi Min Hwan.
FTISLAND is very popular in Japan and have had numerous successful album releases since their debut album "Five Treasure ISLAND".
FTISLAND members are known for their charm and good looks with vocalist Lee Hong Gi famous for his singing style and appeal. 2012 Play! FTISLAND Concert in Malaysia promises to be a real treat for all their Malaysian fans.
Organized by Square Roots Sdn Bhd, the tickets in Malaysia are attractively priced from RM138 (P3), RM248 (P2), RM368 (P1) and RM468 (Rock Zone). All ticket prices exclude the RM3 ticket processing fee. Tickets will be available from 9th December 2011 and sold by iLasso at 03-7957 6088, authorized iLasso ticket agents or Square Roots at 03-8023 4376. Online purchase is available at www.ilassotickets.com.
There is an early bird contest for purchasers of P1 and Rock Zone offering 50 lucky winners to attend the 2012 Play! FTISLAND Concert in Malaysia Meet The Fans Event. For more information, please contact Square Roots at 03-8023 4376.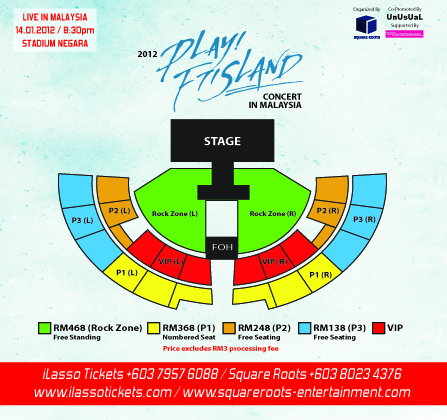 You may purchase the tickets in any of these outlets –
1) Square Roots
37-2, Jalan USJ9/5P, UEP Subang Jaya, Selangor
2) iLasso Tickets HQ
A606, Block A, Phileo Damansara II, Off Jalan Damansara, PJ
3) Rock Corner
– 1 Utama, Bandar Utama
– The Curve, Mutiara Damanasara
– Subang Parade, Subang Jaya
– Mid Valley, Kuala Lumpur
– KLCC, Kuala Lumpur
– Amang Point, Kuala Lumpur
4) T-Break Cafe
– Menara Keck Seng, Jalan Bukit Bintang, Kuala Lumpur
– Kompleks Antarabangsa, Jalan Sultan Ismail, Kuala Lumpur
– Menara Manulife, Damansara Height, Kuala Lumpur
– Quattro West, Persiaran Barat, Petaling Jaya
– Dataran Kewang Darul Takaful, Jalan Sultan Sulaiman, Kuala Lumpur