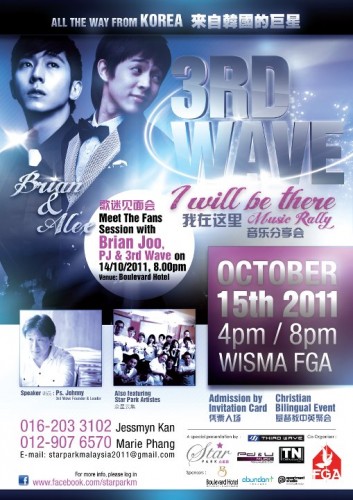 I will Be There Music Rally
(This is a Christian bilingual event)
Organizer: Star Park and PD&U Music
Date: 15/10/2011 Saturday
Time: 4pm and 8pm (2 session)
Admission by ticket: RM25
Normal ticket (Sitting) and Rock Zone ticket (Standing)
Ticketing:
Email the following details to: starparkmalaysia2011@gmail.com
1) Name
2) Contact
3) Ticket Type (Normal or Rock Zone)
4) Time (4pm or 8pm)
For more info log on to:
www.facebook.com/starparkm
www.facebook.com/PDNUMUSIC
Enquiry: Jessmyn 016-2033102,Marie 012-9076570
Ticket:
1) Book your ticket by drop us a mail in starparkmalaysia2011@gmail.com
2) We will contact you once the ticket ready
3) Come to collect your ticket at Star Park office or PD&U Music
(make payment on the spot when you collect your ticket) or
4) Collect your ticket on the event date
(Request you to make your payment to us before the event.)
Visit 3rd Wave Facebook Event Page.
—
Other than this, there will be a meet the fans session on 14 October.
Meet Brian, PJ and 3rd Wave in the meet the fans session!
Date: 14/10/2011 Friday
Time: 8pm
Venue: Boulevard Hotel Function Room 8th Floor
Ticket: RM100 (3rd Wavealbum + admission)
Seats: Only open to 350 people
Register and book your tickets now!
Ticketing and enquiry: Jessmyn 016-2033102, Marie 012-9076570
(Q&A Session, Handshake and Autograph Session)
For the first 50 fans who purchase the tickets, you are entitle to have a photo shoot session with Brian, PJ and 3rd Wave members!
Drop your details to book your tickets now at
starparkmalaysia2011@gmail.com:
1) Name:
2) Contact
3) Quantity of Ticket
Ticket:
1) Book your ticket by drop us a mail in starparkmalaysia2011@gmail.com
2) We will contact you once the ticket ready
3) Come to collect your ticket at Star Park office or PD&U Music
(make payment on the spot when you collect your ticket) or
4) Collect your ticket on the event date
(Request you to make your payment to us before the event).
For more info log on to:
www.facebook.com/starparkm
www.facebook.com/PDNUMUSIC
Enquiry: Jessmyn 016-2033102,Marie 012-9076570
Email: starparkmalaysia2011@gmail.com