It is only 2 days away to AIA K-POP 2013 that going to happen at Stadium Putra Bukit Jalil, and Kaggregate Media is inviting you to join us on attending this concert!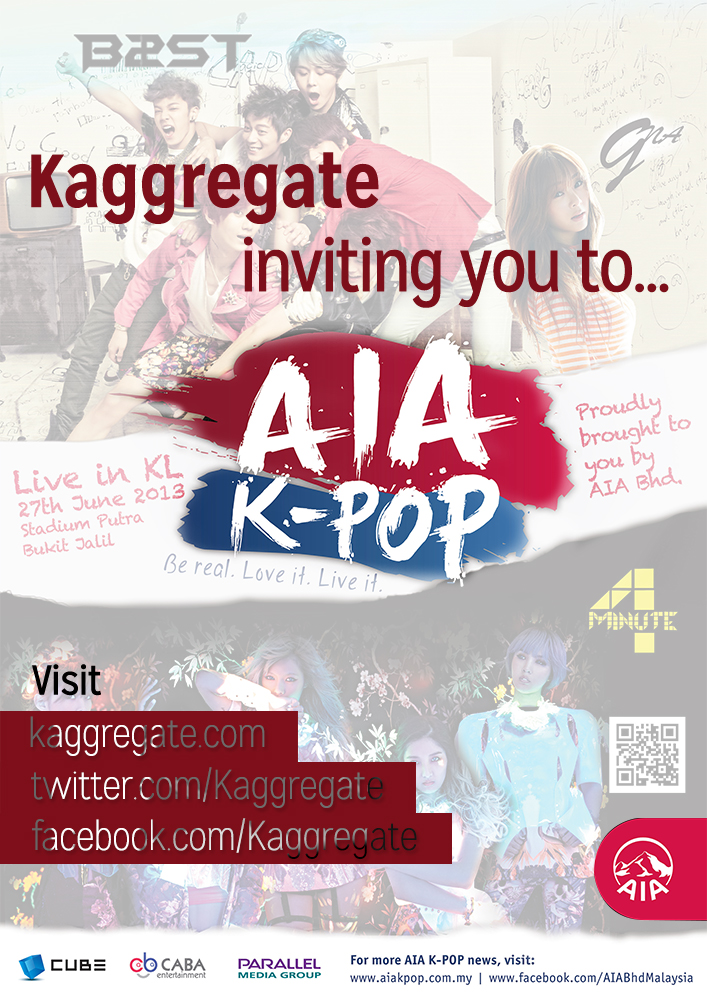 ONE of you will be joining Kaggregate Media attending AIA K-POP 2013, on Thursday, 27 June 2013 at Stadium Putra Bukit Jalil. This invitation includes an exclusive AIA K-POP VIP Reception with dinner served before the concert and a ticket to enjoy the concert which starts at 8PM.
How do you win?
1. "Like" Kaggregate Facebook page (http://www.facebook.com/Kaggregate) and share the page to your friends.

2. Follow Kaggregate on Twitter (http://twitter.com/Kaggregate).

3. Share this following post on your Facebook page with your own message (http://goo.gl/lK6pG).

4. Answer us this simple questions – "How many of the South Korean artistes are attending AIA K-POP 2013, and who are them?"

5. Email your answer and permalink of (3)'s shared post together with your Full Name, Contact Number and Email Address to info@kaggregate.com.
These are the 5(FIVE) simple steps. If you have any inquiry, do not hesitate to contact us.
Terms and conditions:
1) This giveaway is open to Malaysians only.
2) This is a SINGLE invite.
3) Participants are required to complete the steps above and provide us the information stated conditions. Only complete entries are accepted and eligible for participation.
4) Protected Facebook profiles with updates that not traceable by Kaggregate Media will not be accepted as participation to the contest. (Set the post to "Public)
5) Winner will be notified via phone call by 6:00PM, June 26, 2013 will require an immediate confirmation.
6) Judges' decisions are final and not disputable.
7) Kaggregate Media reserves the right to amend the Terms and Conditions without prior notice.