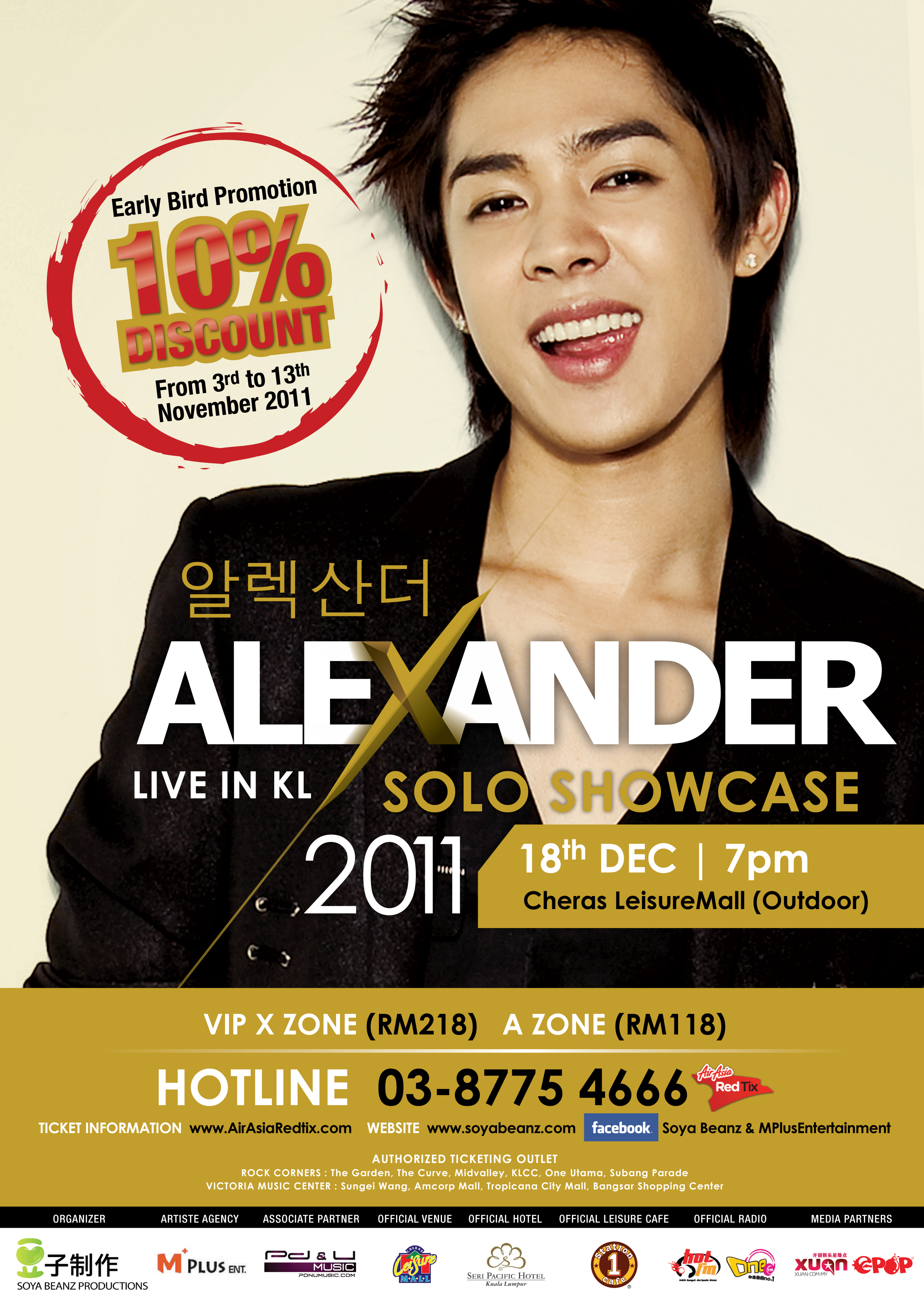 KUALA LUMPUR, 8 NOV 2011 – After being scouted during a vacation in Korea, Alexander Lee Eusebio moved into the world of Hallyu and debuted as an artiste under the popular boy band, U-KISS. He is half-Korean, quarter-Portugese and quarter-Chinese from his Portugese-Chinese father and Korean mother. Alexander is presently a solo artiste under M Plus Entertainment in Korea after he left U-KISS in March 2011. The humble and eloquent, 182cm Alexander is also known for his ability to speak 7 languages; English, Cantonese, Mandarin, Korean, Japanese, Spanish, Portugese!
To mark his solo K-pop career after moving out from U-KISS, Alexander made Malaysia his first destination in his path of evolving into an international artiste. 'Alexander LIVE in KL Solo Showcase 2011' marks his first come back with the debut of his latest, never before released digital singles. Not only will he be performing his latest singles, he will also be meeting and interacting with his closest fans, especially the members of his official fan club – Xanderettes.
Proudly organized by Soya Beanz Production, this showcase looks forward to house 2,000 fans not only from Malaysia, but from neighboring and far countries as well! The showcase will highlight live, first-time ever performances by Alexander, interactive games between Alexander and his fans and finally a wrap-up with an autography session for ALL 2,000 fans who will be attending the showcase!
The first 300 VIP X Zone tickets sold will receive a special limited edition T-shirt which is autographed by Alexander personally! In addition to that, ticket holder will also entitled to a priority pass to enter the showcase before the showcase opens to the rest.
Can't wait to see Alexander LIVE? Showcase details as below:
Date: Sunday, 18th December 2011
Time: 7PM
Venue: Cheras Leisure Mall, Kuala Lumpur
Tickets are now up for grabs, get yours if you still haven't! Interested fans can opt to purchase online via http://www.airasiaredtix.com/Events/Alexander or call the ticketing hotline +603-8775 4666 for further details.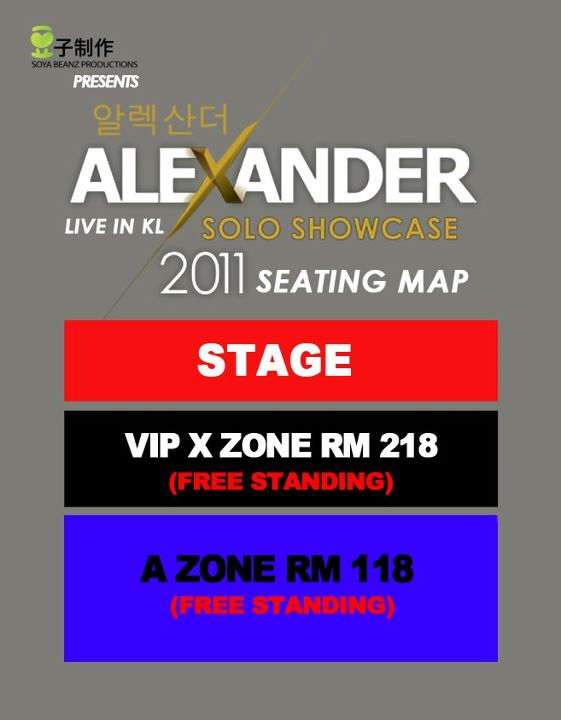 Alexander LIVE in KL Solo Showcase 2011 seating plan for the fans' reference.
Visit Soya Beanz Facebook page and also its event page. Kaggregate wish to see all the Xanderettes in Cheras Leisure Mall on 18th December!