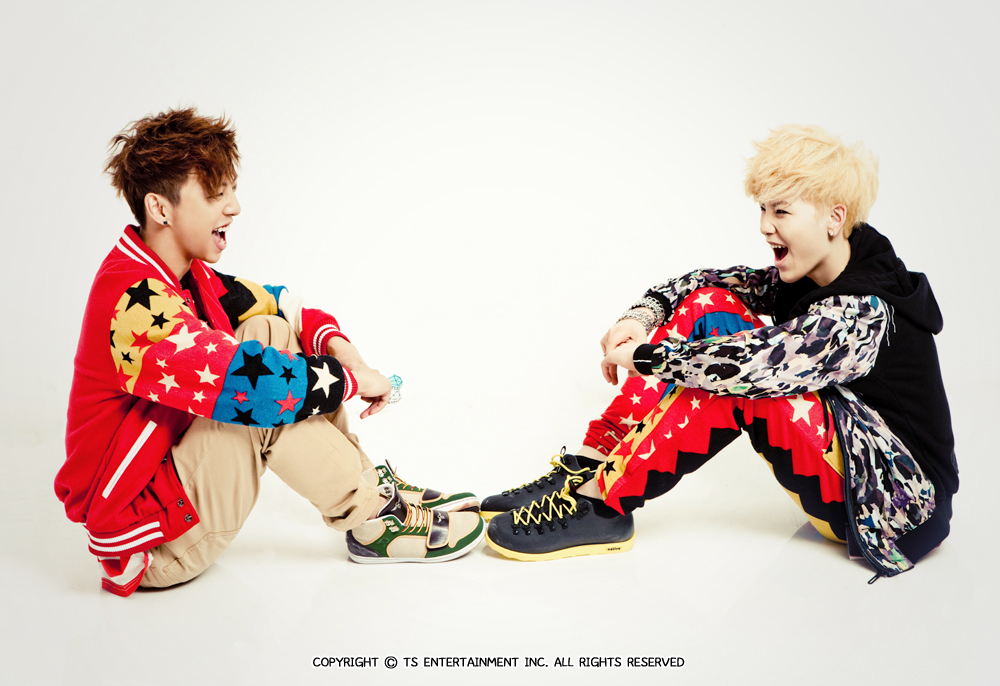 Kuala Lumpur,20 December 2011 – M.E Malaysia in joint collaboration with Latina Marketing are set to bring TS Entertainment's latest power rookies to our shores this coming January. The sub-unit of the upcoming TS Entertainment male group, Bang Yong Guk & ZELO, made their debut with their single "Never Give Up" and has charmed their way into the hearts of fans everywhere.
Comprised of rapper, composer and lyricist Bang Yong Guk and recently introduced rookie Zelo, Bang Yong Guk & ZELO looks to bring some heavy hip-hop flavor to the Korean music scene. Fans may already be familiar with Bang Yong Guk, who was featured on SECRET vocalist Song Jieun's single, "Going Crazy", before releasing his own solo track, "I Remember" with Beast's Yang Yo Seob. Newbie Zelo at 15 years old boasts a powerful rap sound channeling the Greek god of rivalry, Zelos, which he was named upon for his strong determination to always prove himself, despite being so young.
Their debut single "Never Give Up" is specially dedicated to high school seniors who received their results for the university entrance exams with the lyrics of "Never Give Up" encompasses the worries, hopes, and dreams that students face during their teens and young adulthood. The track also features highly-regarded gospel act Heritage, recipient of the R&B-Soul Song Award at the 2007 Korean Popular Music Awards.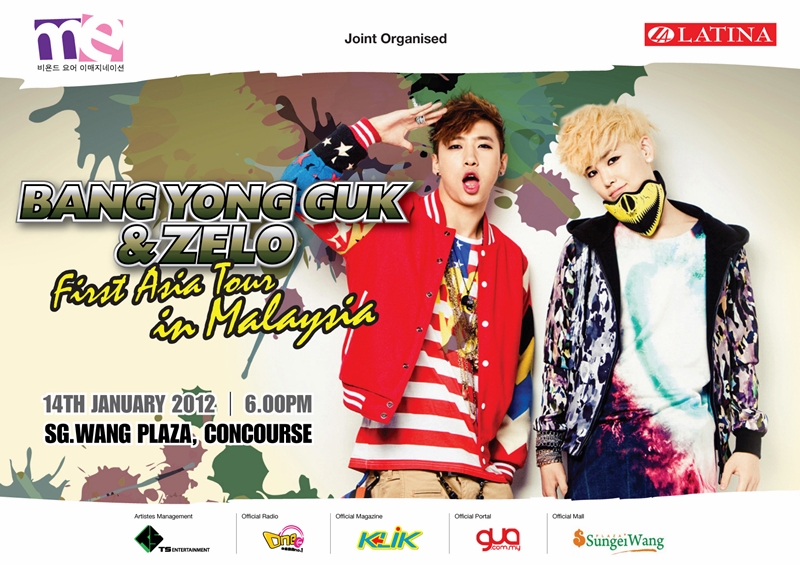 Bang Yong Guk & ZELO will be greeting their Malaysian fans through their first ever public fan meeting at the following details:
Event: Bang Yong Guk & ZELO First Asia Tour in Malaysia
Day/Date: Saturday, January 14th 2012
Time: 6:00 PM onwards
Venue : Concourse, Sungei Wang Plaza
Merchandise: (Pre-Sale) RM80 | (Venue Sale) RM100
Besides showing off their charismatic and powerful performance, there will also be an exclusive autograph session and exciting game segments where fans can take the chance to interact with the boys. Fans who wish to obtain their autographs simply have to purchase 'Bang Yong Guk & ZELO First Asia Tour in Malaysia' merchandise comprise of a limited edition character T-Shirt and Poster Card from M.E Malaysia or via the merchandise booth on event day itself. The autograph session will be organized on a first come, first serve basis and limited to 200 fans only.
In conjunction with the boys' visit to Malaysia, Latina Marketing is also giving Korean entertainment fans opportunities to win a FREE trip to Korea this coming January in celebration of the debut of TS Entertainment and Bang Yong Guk & ZELO's highly anticipated 6 (six) members male idol group, B.A.P (Best,Absolute,Perfect) in January. Winners stand a chance to meet the boys personally, attend their debut showcase and also enjoy Seoul's winter.
For more information, log on to http://www.facebook.com/Inzpire.ME
The event is jointly organized by M.E Malaysia with Latina Marketing together with TS Entertainment as the Artiste's Management. It is supported by Gua.Com (Official Portal), One FM (Official Radio), KLiK Magazine (Official Magazine), Full House Sunway Giza (Restaurant Partner) and Sungei Wang Plaza (Official Mall).