Record-breaking 3,500 fans queue for the BIGBANG Alive Galaxy Tour 2012 Malaysia ticket launch; tickets 95% sold out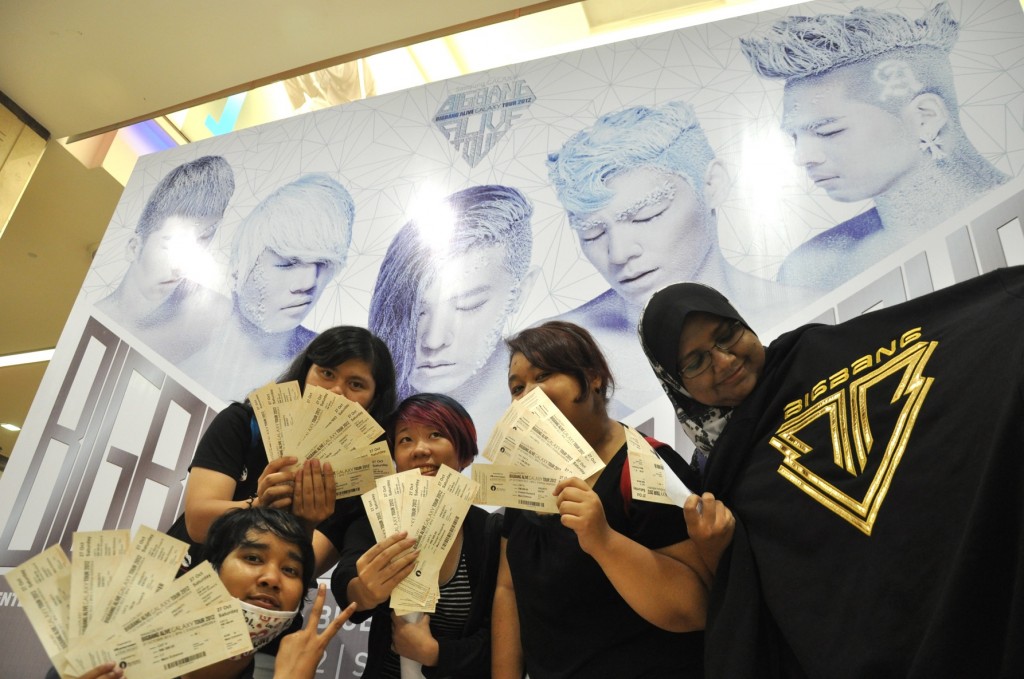 28 Jul 2012 (Kuala Lumpur, Malaysia) – Proving the massive popularity of BIGBANG, a record-breaking crowd of an estimated 3,500 started queuing for their first-ever concert in Malaysia – BIGBANG Alive Galaxy Tour 2012 – from as early as 22 hours before tickets launched for sale at 10.30am today at fahrenheit88. As of 6.00pm today, 95% of the total 12,000 tickets up for sale were sold out, with only Category 5-8 tickets currently available for sale (RM 288, RM 198, RM 188, RM 98).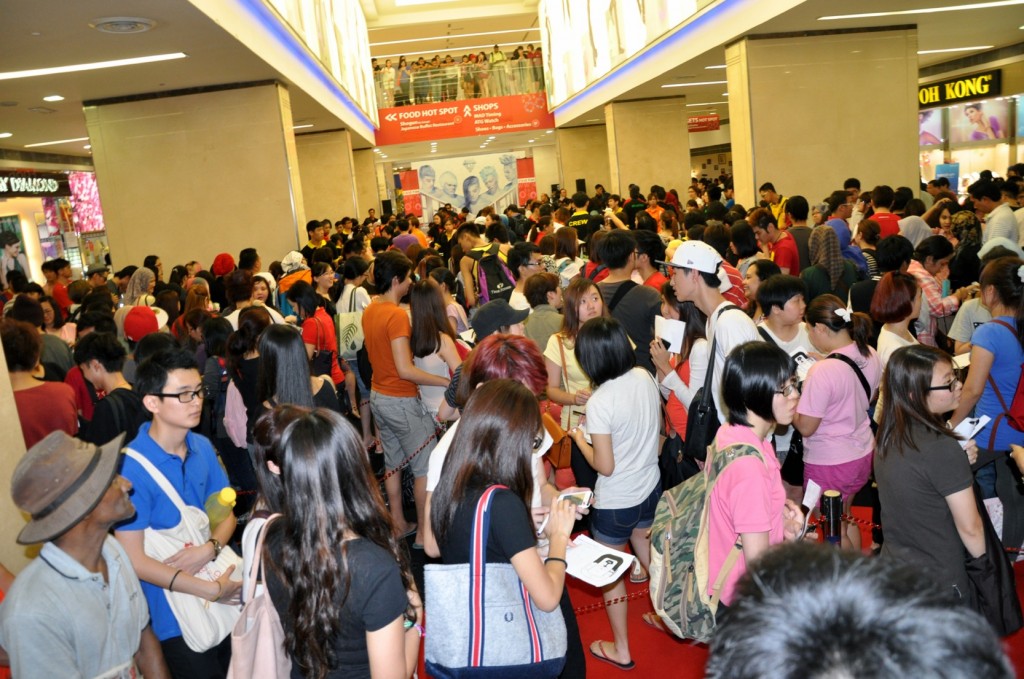 A total of over 600 tickets in the highest tier category (RM 688) sold out the quickest in a mere 30 minutes, while Category 2 (RM 588), Category 3 (RM 488) and Category 4 (RM 388) sold out within an hour. A total of over 11,000 tickets were sold today, making this the largest number of tickets sold within a day for any K-Pop concert in Malaysia.
"We expected a huge turnout as we know the huge pull BIGBANG has in Malaysia, but it was the community spirit of all the fans that touched us, as they helped each other out in the queue and on Twitter and Facebook. It was also very beautiful to see fans of all ages, races and demographics come together; proving that music is truly a universal language. We are certain that the show will not disappoint and will promise fans a great concert on 27 October", said Wendy Ng, Executive Producer of Running Into The Sun, the organizer of the concert.
BIGBANG Alive Galaxy Tour 2012 Malaysia is set to be the concert of the year with a massive RM 4 million production show, in a one-night only concert at Stadium Merdeka on 27 Oct 2012. BIGBANG, consisting of five K-pop heroes G-Dragon, Taeyang, TOP, Seungri and Daesung, will perform the Malaysia leg of the BIGBANG Alive Galaxy Tour 2012 in their very first concert in Malaysia. BIGBANG Alive Galaxy Tour 2012 Malaysia will be the first outdoor concert across Asia.
BIGBANG Alive Galaxy Tour 2012 Malaysia is sponsored by Samsung Galaxy, presented by YG Entertainment and Livenation, and organized by Running Into The Sun with official partner PMP. 
Cat 1 (RM688), 2 (RM588), 3 (RM488) and 4 (RM388) are completely sold out currently while left with Cat 5 (RM288), 6 (RM198), 7 (RM188), and 8 (RM98). Tickets can be purchased via ticketing booths and online bookings through Ticketcharge http://www.ticketcharge.com.my/ and Redtix http://redtix.airasia.com/!
Got your tickets already? Maybe you could post up an image on the comment below so we could know our beloved readers are prepare to be part of the concert. Mention us on Twitter @Kaggregate to shout out if you would too.
Support our Facebook page too! https://www.facebook.com/Kaggregate
Photos credit (without watermark) to Running Into The Sun