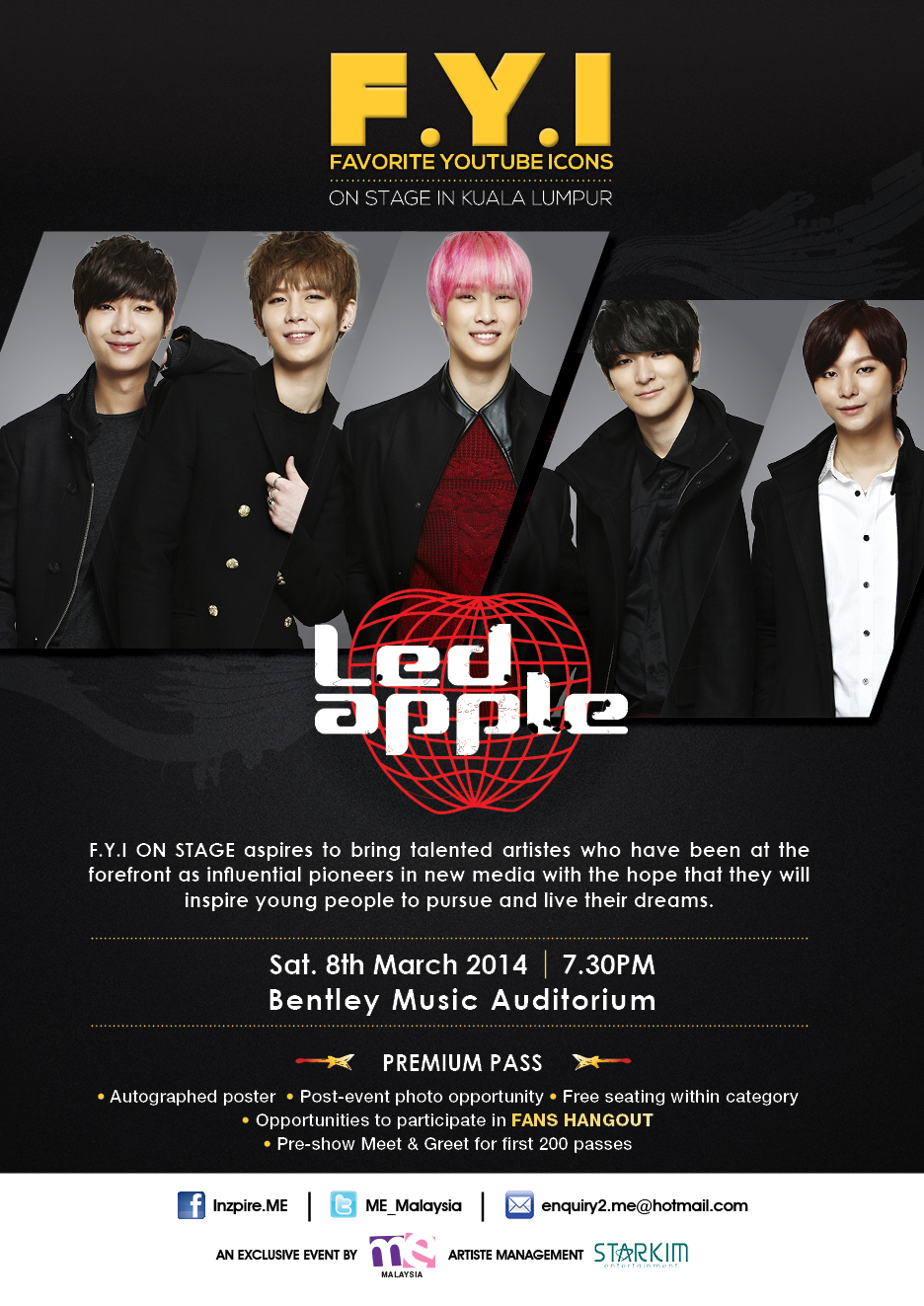 Kuala Lumpur – M.E Malaysia is set to bring Korean band, LEDapple to Malaysia's shores on March 2014 under "F.Y.I On Stage", a series of events which introduce and highlight talented undiscovered artists.
LEDapple is a five member band consisting of drummer Hyoseok, guitarists Kwangyeon, Youngjun and vocalists, Hanbyul and Kyumin. LEDapple is known for its hybrid band style, which combines a conventional live approach with spectacular dance elements. The band is also active online by releasing a series of weekly YouTube videos titled "Music Note" where they show off their musical talents on a more personal scale with their fans. They have covered some western big names such as Jason Mraz and Bruno Mars plus many others.
"F.Y.I On Stage with LEDapple" promises an intimate show with smaller but exclusive crowd. Rather than having a performance on a large concert stage, they'll fill the hall 100% with their live sound and voices and give it a festival like sense of authenticity.
"F.Y.I On Stage with LEDapple" will take place on Saturday, 8th March 2014 at Bentley Music Auditorium, Mutiara Damansara. Premium Passes (RM280) is available in limited quantity. The first 200 passes sold also come with a 'Pre-Show Meet & Greet' session.
To kick off the promotion, M.E Malaysia will be having one day physical sales at the following details:
Date : Saturday, 30th November 2013
Venue : HK Station, 6th Floor, Sungei Wang Plaza
Time : 12PM – 5PM
Passes will be available for online purchase from 1st December 2013 onwards. For more information on how to secure your passes, log on to http://www.facebook.com/Inzpire.ME.