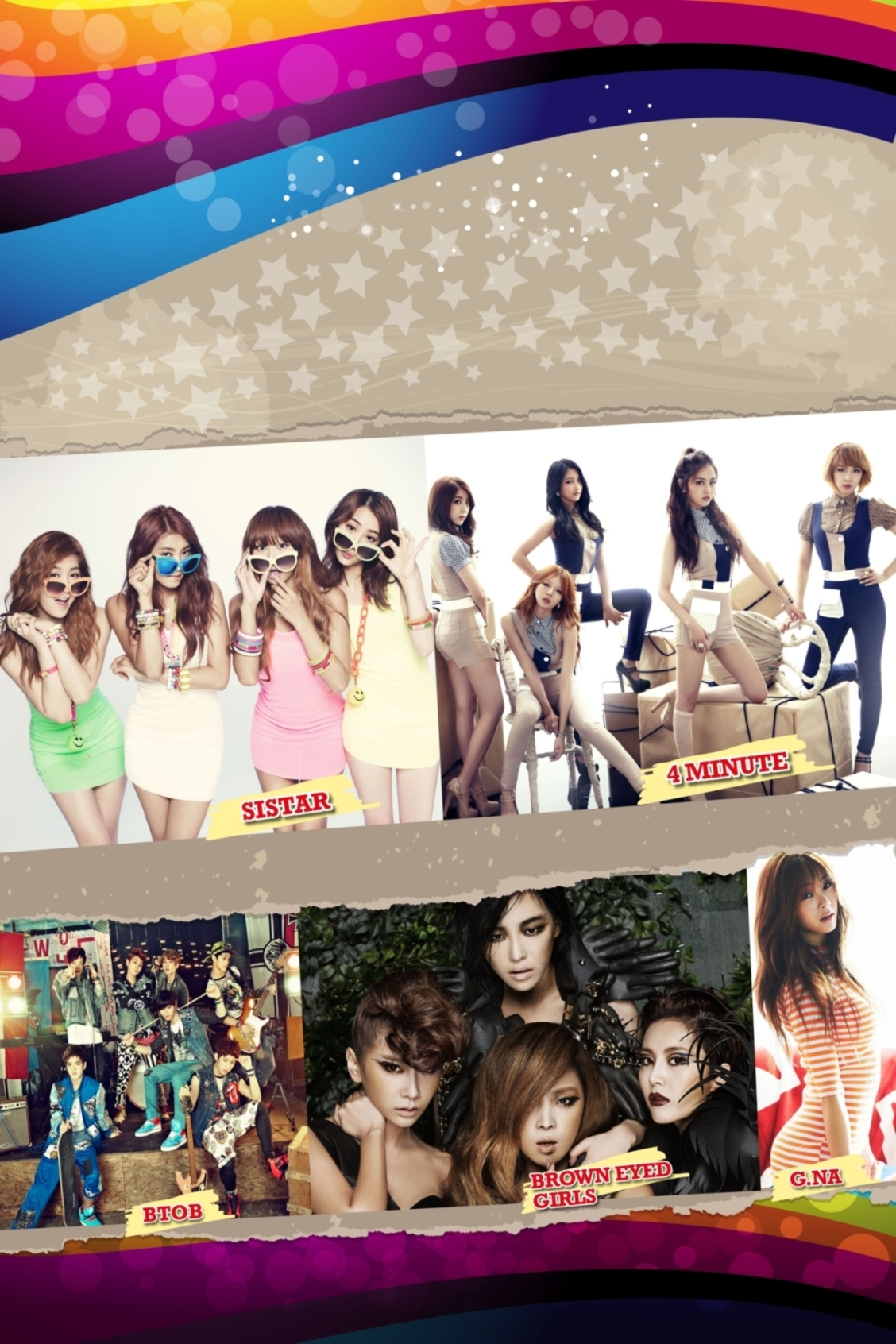 Genting Highlands, 18 April 2013 – The K-Pop wave hits Resorts World Genting! Renowned Korean group SISTAR, 4Minute, Brown Eyed Girls, Born to Beat (BTOB) and G. NA are set to rock the stage of Arena of Stars, Resorts World Genting on 23 & 24 May, 8.30pm! This hottest concert is brought in by Esteem Pavilion Sdn. Bhd. Grab this golden opportunity to meet your favorite hot and sexy artistes that have been featured in the world renowned K-Pop singer PSY's Music Video, namely HyunA from 4Minute in "Gangnam Style" and Gain from Brown Eyed Girls (BEG) in the latest hit song "Gentleman".
The sexy girl group SISTAR, who will be performing for the first time in Malaysia is set to dazzle their fans with special stage performance. SISTAR was formed in 2010 with the members Hyolyn, Bora, Soyou, and Dasom. They released the debut single 'Push Push' on 3 June 2010 and debuted on stage performing 'Push Push' and 'Here We Come' on the same day too. Their hit songs such as "How Dare You", "So Cool", "Alone", "Loving You" and more have made them become one of the leading sexy girl groups in the K-Pop music industry.
Formed in 2009 by Nam Ji-hyun, Heo Ga-yoon, Jeon Ji-yoon, Kim Hyun-a, and Kwon So-hyun, 4Minute debuted their first single "Hot Issue" and released first Japanese album "Diamond" in 2010. Their popular hit songs include "Creating Love", "HuH", "Mirror Mirror", "Volume Up" and more. After featuring as the main female counterpart in the PSY's "Gangnam Style" music video, HyunA has inadvertently become one of the most visible artists of the genre.
Brown Eyed Girls who is also known as B.E.G. consists of four members; they are JeA, Miryo, Narsha, and Gain. They started the singing career with debut album "Your Story" in 2006 and soon become famous female group with the hit song "L.O.V.E" in 2008. Brown Eyed Girls took the K-Pop World by storm with their famous hit songs such as "Hold the Line", "How Come", "Abracadabra" and won themselves many outstanding awards. PSY's latest hit song "Gentleman" featuring Gain as the female lead in the music video has hit more than 70 millions of YouTube views worldwide in the first 3 days after it was released. The catchy "arrogant dance" in the "Gentleman" music video was also originated from Brown Eyed Girls' hit dance "Abracadabra".
Born to Beat (BTOB) which is formed by 7 members and the only male dance group of the concert is set to dazzle their fans with their famous hits such as "I Only Know Love", "Insane", "Father" and more!
Gina Jane Choi, also known as G.NA, is a Korean-Canadian singer born in 1987. She released her digital duet song "Little Things I Want to Do When I Have a Lover" together with Rain in 2010 and followed by a debut mini "Draw G's First Breath" in the same year. G.NA's hit song "Black & White" has made her become one of the popular solo singers In the K-Pop music world. Other hit songs include "I Already Miss You", "I'll Back Off"and "So You Can Live". Besides that, G.NA also sang the original sound track of the Korean drama "The Greatest Love" which was broadcasted in Malaysia's TV channel in last year has received overwhelming response from her fans.
Be sure mark your calendars and get ready for a night of energizing K-Pop music and dance at Resorts World Genting on 23 & 24 May! Tickets are on sale now for RM800 (VIP), RM688 (Rock Zone), RM650 (PS 1), RM400 (PS 2), RM290 (PS 3) and RM100 (PS 4). First 500 early birds will get to enjoy 5% discount (applicable to all tickets).
"K-Pop Dream Concert Live in Malaysia" is organized by Esteem Pavilion Sdn. Bhd. For reservation and enquiries, please call Ticket Charge at 03 9222 8811 or 03-2718 1118 or log on to www.rwgenting.com. Please note that admission is one person per ticket, including children of all ages and infants. Strictly no photography and video recording during the show.