K-Pop Heal The World finally hit the shores of Singapore! Following the unbeatable hallyu hit on the island, popular Korean pop groups Afterschool together with their sub-unit Orange Caramel, MBLAQ, T-MAX, and T-ARA pulled off a fabulous stage at Max Pavilion on 4th June 2011.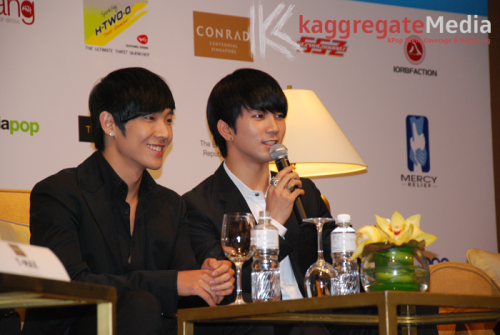 500 fans of the above Korean pop groups were lucky to be able to meet their favourite idols not only during the concert, but also Meet and Greet with T-max and MBLAQ on 3rd June at Conrad Hotel Singapore, which was held hand-in-hand with the press conference. An exclusive fan meet was also held for 50 lucky fans at backstage on the day of the concert.
The 3-hours long concert held at Expo Max Pavilion started with a blast with an opening act by beatboxer Dharni, followed by an exhilarating dance performance put up by 'O Crew'. The elite crew of O School managed to hype the audience up by dancing to popular k-pop songs such as Dangerous by BoA, Somebody to Love by Big Bang and Can't Nobody by 2NE1.
Much to the fans' delight, each group performed at least 4 of their hit songs. The organizers also planned a birthday surprise for T-ARA's Jiyeon, which consisted of the entire concert hall singing a birthday song for the girl who would be turning 19 (Korean age) on the 7th June.
Official Magazine: Teenage
Official Media Partners: SPH Ele Showcase
Official Music Channel: MTV
Official Cosmetics: Laneige
Official Restaurant: Sarang
Official Drink: H2O
Official Hotel: Conrad Centennial Singapore
With Support from: Nando's and Fish & Co Express
In Coorperation with: The Embassy of the Republic of Korea, Korean Tourism Organization, and Mercy Relief.