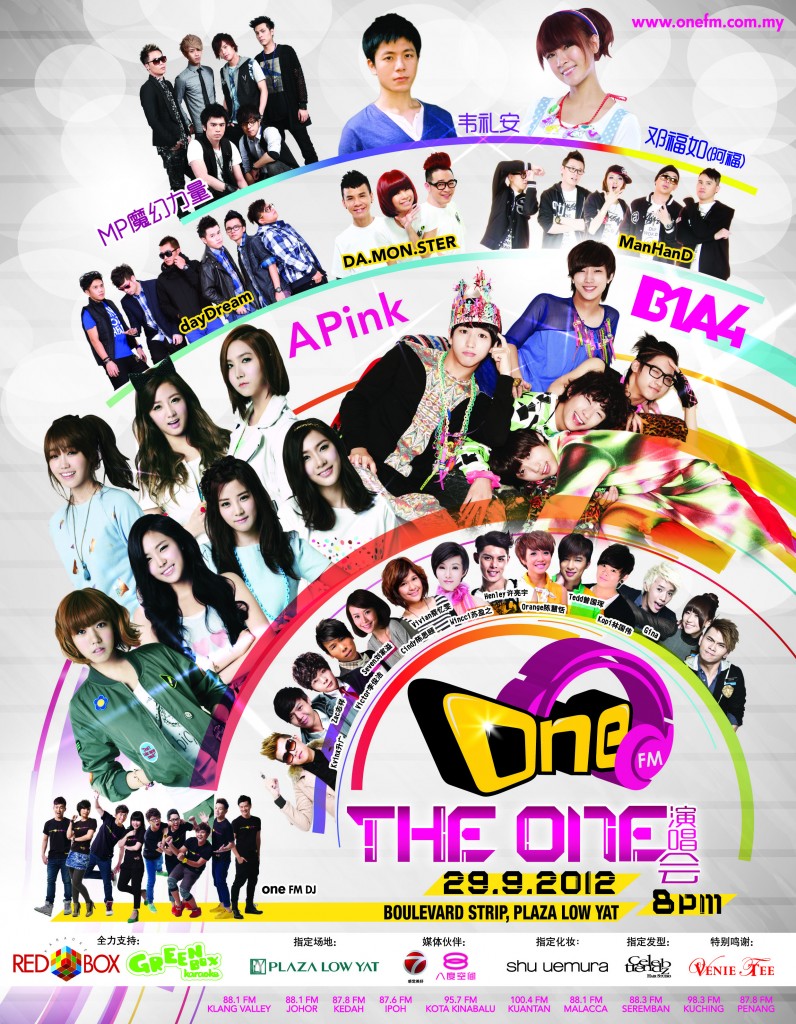 After bringing their loyal listeners to overseas concerts with fully sponsored concert trips, one FM is finally bringing the concert over to Kuala Lumpur Malaysia!
With the concept of a street party, majority of the songs chosen are either fast paced or rock music. Set to be held on 29th September at Boulevard Strip, Plaza Low Yat, line up not only included Korean artistes, B1A4 who has been climbing up charts in both Korea and Japan as well as up and coming girl group A Pink with their innocent and bubbly image. Other overseas performing artistes include Magic Power, William Wei(Wei Li An韦礼安) and Ah FU(Deng Fu Ru邓福如) as well as local Malaysian talents ManHanD, dayDream, DA.MON.STER, Wincci苏盈之, Cindy陈思颐, Orange陈慧恬, Vivian蔡忆雯, Kopi林国伟, Gina, Victor李俊洁, Tedd曾国珲, Seven刘家溢, Kvinx升广, Zac志祥an Henley许亮宇.
There will be a lot of publicity event for the concert. For those who are very keen to get the tickets, stay tuned to ntv7 & 8tv as well as one FM. We will be giving out the tickets on air, on TV and you can even get it in Red Box and Green Box outlets!
Please find the tickets distribution details as below:-

i. On-air (one FM) – 3rd September until 28th September
ii. On TV (ntv7 & 8tv) – 10th September until 21st September
iii. Through newspaper and magazine

i. Through Red Box & Green Box outlets
| | | |
| --- | --- | --- |
| Date | Time | Venue |
| 2th of September (Sun) | 1pm-2pm | 1st Avenue Penang @ Red Box |
| 8th of September (Sat) | 1pm-2pm | Seremban 2 @ Green Box |
| 9th of September (Sun) | 1pm-2pm | Cheras Selatan @ Green Box |
| 16th of September(Sun) | 1pm-2pm | Bukit Tinggi @ Green Box |
| 23th of September (Sun) | 1pm-2pm | Plaza Low Yat@ Main entrance |
For more information and updates, please log on to www.onefm.com.my or like one FM on Facebook.
Details
Date: 29th of September (Saturday)
Time: 8pm
Venue: Boulevard Strip,Plaza Low Yat
Zone: Hit Zone(VVIP) & one Zone
Tickets: Free
Website: www.onefm.com.my