After a successful SHINee The 1st Concert in Singapore a year ago, SHINee is back with SHINee World Concert II to be held on 8th December 2012 at the Singapore Indoor Stadium, brought to you by renowned concert organiser sgRITS.
SHINee is known for being a contemporary band in the Kpop scene, now expanding into the Jpop music scene as well. Going on a hiatus from the Kpop scene after "Lucifer' to promote in Japan, their Korean comeback in 2012 with "Sherlock" proved that SHINee has not been forgotten despite the influx of new Korean boybands making their debut. SHINee was recently in Singapore for Boyz Nite Out together with 4 other Korean male acts. SWCII will be a one-night only even and Shawols definitely do no want to miss this spectacular night, guaranteed to offer so much more than the concert in 2011. SWCII will also feature the biggest mosh pit ever that will fit 3,500 fans. Refer below for the seating plan and more details. Tickets have already started selling via Sistic from 31 August 2012.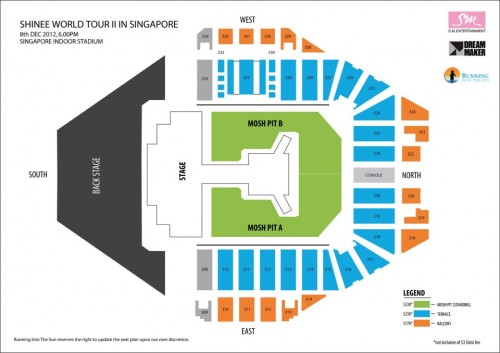 SHINee World Concert II Singapore
Tickets: S$238 (Terrace and Mosh Pit) and S$178 (Balcony)
Date: 8 December 2012
Time: 6PM (appox 3 hours)
Venue: Singapore Indoor Stadium
Tickets now available through Sistic, do hurry limited tickets available!
Read the FAQs for the concert!