We know you are not looking for English act but this is a big news for your beloved Korean act in this release. We will have IU in place of Rainbow and Girls Day. Read more at the space below.
Kuala Lumpur, 27th February 2013 – Twin Towers @Live 2013 set to be held during the weekend of 22 and 23 March 2013 at the base of the iconic PETRONAS Twin Towers, today announced much adored boy band of the late 90's, Backstreet Boys as its second international act.
Following the earlier announcement for American pop-sensation Demi Lovato and K-Pop stars U-Kiss who will be performing on the 22 March; the Backstreet Boys has been signed on to headline the second and final day of the music gala on 23 March with their biggest hits repertoire.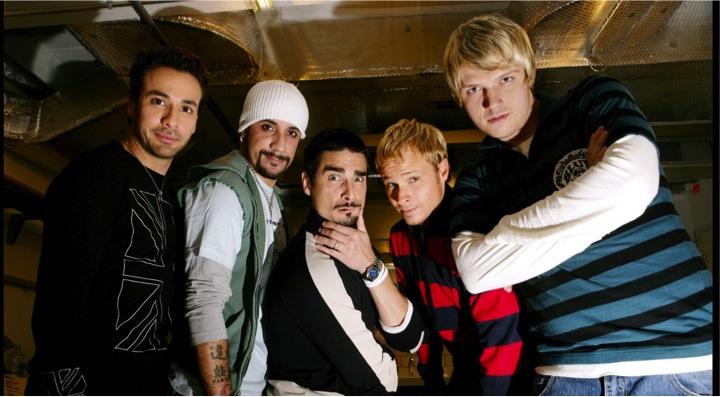 The Backstreet Boys, one of the biggest boy bands ever with over 130 million albums sold worldwide are set to celebrate their 20th Anniversary as a band this year. With the band set to embark on its 20th Anniversary reunion tour across North America starting in May 2013, the appearance in Kuala Lumpur serves as a prelude and a special occasion for its Malaysian fans with the band performing together prior to kicking off their big tour.
The quintet made up of AJ McLean, Brian Littrell, Kevin Richardson, Howie Dorough, and Nick Carter have developed their music over the years from teen-inspired pop tunes that made them superstars to evolve to more adult contemporary undertones evident in their comeback albums in 2005 – Never Gone and in their 2007 follow up – Unbreakable.
The 2009 release of This is Us featured big hook songs like "PDA", "Bye Bye Love" and "Straight Through My Heart" featured tracks that reminded fans of the Backstreet Boys magic. The album featured the group's classic sound and vision while also placing it squarely in today's music environment. More recently, the Backstreet Boys released a Christmas single, "It's Christmas Time Again" in 2012.
Korean Sensation IU replaces Rainbow and Girls Day
Meanwhile, due to unforeseen circumstances, the organisers have also informed that two  Korean K-Pop acts previously announced, Rainbow and Girls Day will not be able to perform at the Twin Towers @Live 2013.
In their place is K-Pop sensation cum actress; IU who will take to the stage to entertain the crowd with fellow headliners, Backstreet Boys on 23 March. IU debuted on Mnet M!  Countdown in September 2008 with her debut single "Lost Child" which was later released as the title track from her debut mini-album Lost and Found several weeks later. She shot to stardom with her full studio album Growing Up as well as composed and sung for multiple Korean dramas and completed her solo tour of South Korea in April 2012. Her latest single album released in May 2012 was titled "Spring of a Twenty Year Old". IU is expected to release her new album within the first half of 2013 featuring a more mature theme.
Local Music Biggies Join Twin Towers @Live 2013 Line-Up
In addition to the international line-up for the two-day event, notable local household names are also set to perform alongside existing artistes from the US and Korea.
Atilia and K-Town Clan have both been signed on to bring the Malaysian vibe to the opening day's performances on 22 March. With her breakthrough genre of music, Atilia has worked with award winning writers, composers and artists on her last album Indah and will bring her unique blend of Jazz, R&B and Bossa Nova to the audience.
Following a clean sweep of awards at the recent VIMA Music Awards 2012, one of the country's hottest music acts; K-Town Clan will also join Atilia on the opening night. To date, the boys have released multiple #1 chart toppers, sharing the stage with both local and international artistes. With plans underway for a second album in 2013, K-Town Clan has already returned to the studio to work on a couple of new singles.
Saturday 23 March will feature the local line-up of Mizz Nina and Caprice. Mizz Nina has been a phenomenon in the Malaysian music scene since she burst in with her vibrant music. The hip-hop artist has travelled the world and worked with big names in her music genre while also being extensively featured in the international press, making Malaysia proud.
Joining Mizz Nina, Caprice will bring his energetic stage presence to show fans why he is Malaysia's youth icon. With a fan base across Malaysia, Brunei, and Singapore, Caprice has three #1 singles on local radio stations to his credit, while his biggest hit "Fantasy Girls" was an online hit garnering over 50,000 views in the first month of its release.
Twin Towers @Live 2013 will also be featuring DJ Face Da Fader and DJ Tatsuro to get the audience to party the night away. Double Malaysian DMC Champion DJ Face will be featured on 22 March skilfully switching his set from hip hop to electro breaks making him globally appealing and the choice DJ for other international concerts in the past. Meanwhile, DJ Tatsuro will take charge of the turntables on 23 March. Defending champion of the best turntablist in the "Malaysian DJ Battle 2012", DJ Tatsuro has played alongside world renowned DJs including DJ Shortkut (Beat Junkies), Maseo (De La Soul) and Ali Shaheed Muhammed (A Tribe Called Quest). The Japanese-Malaysian has lived in several continents including Africa, Europe and Asia garnering an extensive knowledge and love for music, Tatsuro continues to show versatility by blending beats and sounds from various genres; including hip hop, electro-house, dubstep and trap.
PETRONAS Motorsports is also running a special merchandise promotion for FanZone tickets to watch TWIN TOWERS @LIVE 2013. The package is only available at the PETRONAS Twin Towers Gift Shop located at the PETRONAS Twin Towers Skybridge Visitors Centre in KLCC.
Purchases of RM150 worth of selected merchandise entitle a buyer to 1 (one) FanZone ticket voucher; while purchases of RM300 or more entitles a buyer to 2 (two) Fanzone ticket vouchers. Vouchers can be redeemed at the 2013 PETRONAS Malaysia Grand Prix showcase at Suria KLCC from 16th March*.
Fans can also look out for more Fanzone ticket giveaways for both days via radio, print and online channels in the month of March 2013.