The Ultimate K-Pop Fan Gathering is Back!
Stand a chance to catch a K-Pop concert overseas plus many other exciting prizes!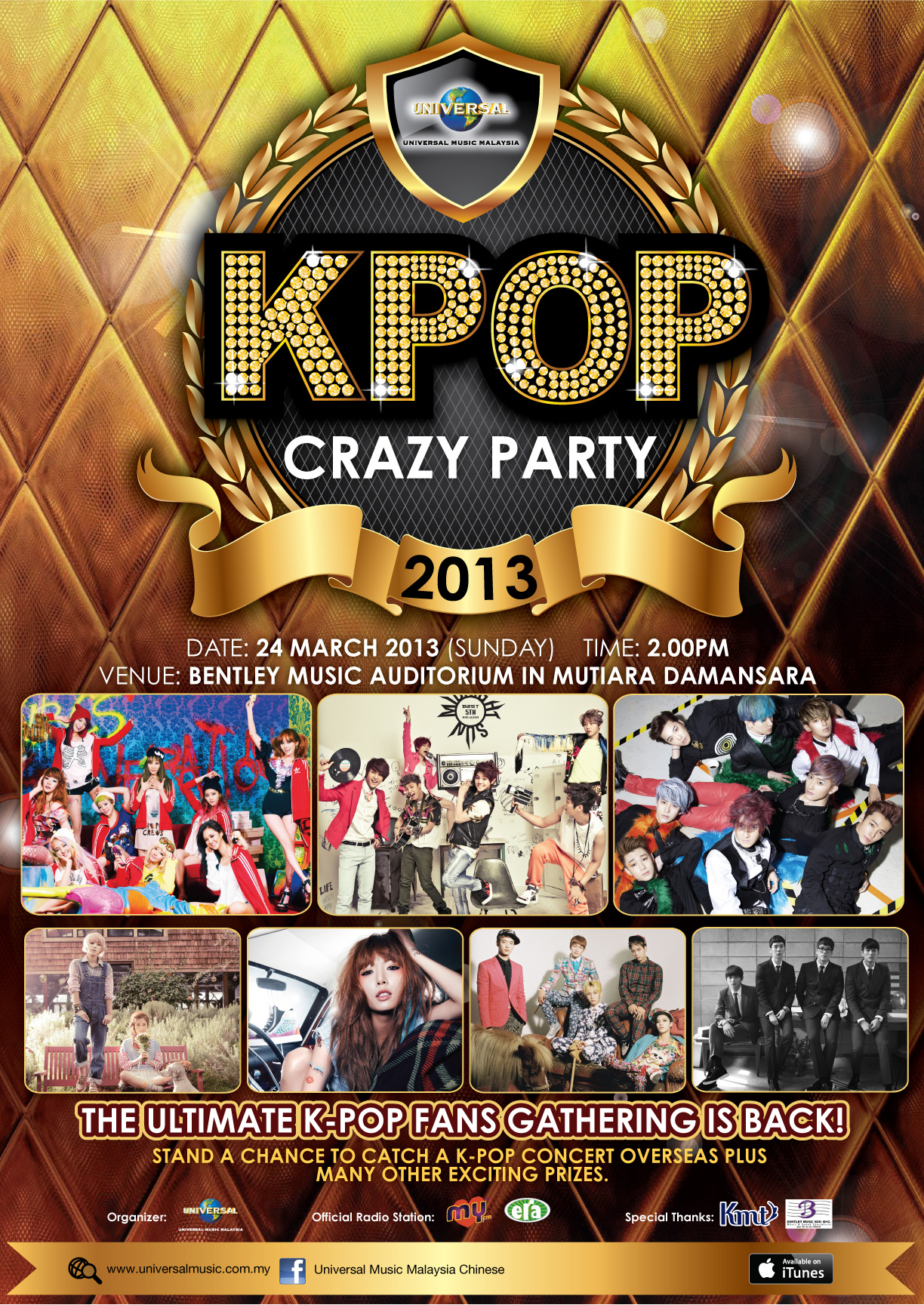 Organized by the Universal Music Malaysia, the "Universal K-Pop Crazy Party" is back again after its first successful run in February 2012! The "Universal K-Pop Crazy Party 2013" will be bringing all the K-Pop Fans gather and crazy one whole day again! This is the second time Universal Music organizing K-Pop fan-gathering. This invite-only event will be held on the 24rd of March 2013 (Sunday) from 2pm onwards at Bentley Music Auditorium in Mutiara Damansara.
In order to let more K-pop fans to join this gathering, the organizer has decided to postpone Universal K-pop Crazy Party which was originally set to be held on 23 rd of March to the next day, 24th of March, due to the clash with another concert on the same day. Time and venue for this event are remained unchanged.
Activities of the events included K-Pop dance competition, Best Dressed Awards, quiz and Fun-games session and Lucky Draw which will give away great prizes like Fly Away K-Pop Concert package and Girls Generation's individual standees! On that day, for Girls Generation or SHINee's fans, prepare your speech to your lovely idol as there may have video record your words to Girls Generation and SHINee! If you have something to tell them, here is the chance!
The headline competition will be the Universal K-pop Crazy Party Cover Dance Competition, open to groups of five to nine after purchasing one of the Universal K-pop Artist albums or caller ringtones. There will be two categories for the dance crew to participate: SHINee and Girls Generation. 3 dance crew will be chosen for each category and they will be invited to Universal K-pop Crazy Party 2013 and compete for the champion on that day. The winners will be able win cash prize!! For those who are interested in participate the dance competition, what you need to do is just video record your dance performance that is not exceed 5 minutes and upload it to YouTube! After that you just need to email the link of YouTube to umg2007@gmail.com! (Please refer the Facebook page of Universal Music Malaysia or Universal Music Malaysia's Official website www.universal.com.my for further information.)
There will also be booths where fans can buy their favourite artist's merchandise, a Universal Music stand selling your favourite artists' albums and food booth from Korean local restaurants. You can also take some camwhore photos with all the Korean artists Standee while waiting for the opening.
Highlighting new and current K-pop stars under the Universal Music belt, which includes artists from CUBE Entertainment (Beast, 4Minute, G.Na, Troublemaker), SM Entertainment (TVXQ, Super Junior, Girls Generation, f(x)) and JYP (2AM) and many more, this event will definitely be a fun-filled day for fans of the Kpop music genre.
If you are the K-Pop Fans, don't miss it!! There are three ways for you to get the invitation to the Party:

• Purchase any of the Universal K-Pop Albums, or
• Download any Universal K-pop caller ringtone, or
• Participate in media's contest!

For more information,stay tune to www.universalmusic.com.my or visit Universal Music
Malaysia Chinese Facebook or call to 03-79587433 (Ext. 205/119).