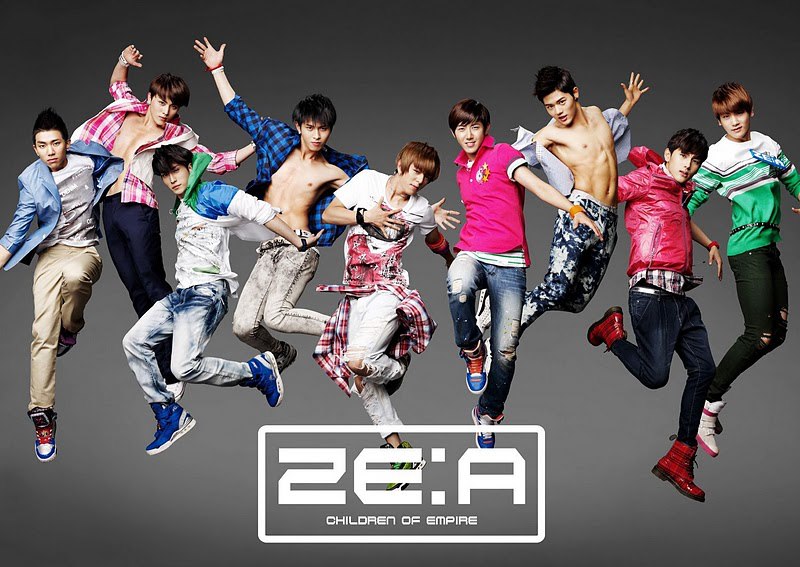 Another spectacular event brought to you by Jazzy Group 《ZE:A Showcase Live in Malaysia 2012 》. Jazzy Group will be bringing ZE:A to Malaysia, to hold their Showcase at Kenanga Wholesale City (KWC) on the 10th November 2012, at 7.30 p.m. Ticket will official launch at 03rd September 2012, at 10a.m .
Good news to all the fans, as the first 200 fans who buys the VIP ticket (zone Z) will get a chance to be on stage to get an  autograph from ZE:A. Another good news is that there will be a "Lucky Draw Session" for everyone to have a chance to play and to interact with ZE:A on the stage.
The ticket price are listed as below:
– zone Z   (VIP)    : Rm 333 (Free 1 poster)
– zone E   (Z1)      : Rm 203
– zone A   (Z2)      : Rm 103

* Ticket price including RM3 processing fees

Click to enlarge
Korean male group ZE:A that is also known as Children of Empire, is a South Korean 9 members boy band formed under Star Empire Entertainment. They are Junyoung , Jung Hee Cheol, Kim Ji Yeop, Kim Tae Heon, Hwang Kwang Hee, Ha Min Woo, Im Woong Jae, Park Hyung Sik, Kim Dong Jun. ZE:A's "Lovability" album got into second place in the highest sales ranking in Taiwan 2011. Furthermore, according to the G-Music Billboard charts, ZE:A is the number one selling K-Pop artist in Taiwan 2012. They have also ranked high in the country's other music charts such as Five Music and eZPeer. Lastly, their song 'Daily Daily' has topped Japan's charts (Channel V) in its respective category, which has further establishing their place in the music world.
Come and join us at Kenanga Wholesale City (KWC as the venue sponsorship) to enjoy their loveable and spectacular performances that will definitely melt your heart. On the other hand, you can do some shopping at KWC too; after or before the showcase.
Stay tune always with Jazzy Group Facebook, Jazzy Group Twitter, official radio station One FM & Hot FM, and official Tv station 8TV for their latest news update. Hurry up to book for your tickets by emailing to marketing@jazzygroup.com or call to +603-56221600
For more information, please visit our website or contact enquiry hotline:
TicketCharge 03-9222 8811 / JazzyGroup 03-5622 1600
(www.ticketcharge.com.my) / (www.jazzygroup.com).