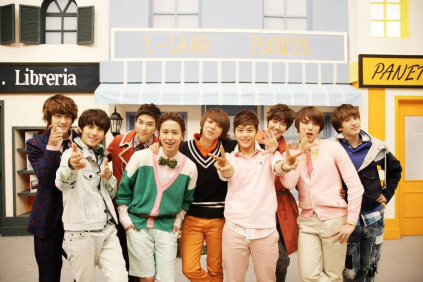 (May 25, 2011) – Hong Kong: ZE:A, one of the hottest boy bands in Korea, will hold their "ZE:A Asia Tour 2011 in Hong Kong" at Rotunda 3, 6/F Kowloonbay International Trade & Exhibition Centre (KITEC), at 8 p.m. on June 30, 2011 (Thursday). Tickets are available for sale from 10 a.m. (HK Time) on May 28, 2011 (Saturday).
This is the first concert to be staged by ZE:A in Hong Kong. The nine band members are thrilled and said, "It is the first time we visit Hong Kong and hold a concert there. We feel extremely excited and hope to meet all the fans that have given us their unwavering support and love since our debut to express our gratitude! We have done lots of preparation for our show in Hong Kong. We hope we can impress all of our fans and all Kpop lovers with our singing and dancing on stage. We also hope to take this opportunity to see famous scenic spots and shopping landmarks in Hong Kong! Of course, we won't miss the chance to taste the delicious cuisine in Hong Kong. We look forward to seeing you all at ZE:A's first Hong Kong show on June 30! Don't miss it!"
Tickets prices will be $880 and $580 (all seats are numbered). HK$880 ticket holders can join a "face-to-face" autograph session which will be held after the show(1). Each ticket holder will receive a "ZE:A Asia Tour 2011 in Hong Kong" poster.
Tickets are available for sale at Hong Kong Ticketing (online booking: www.hkticketing.com; purchase hotline: 31 288 288) or Tom Lee Music Stores.
The event is sponsored by SOGO, Harbour Grand Kowloon, Cafe Deco Group, Madame Tussauds Hong Kong and Sorabol Korean Restaurant. The event is also fully supported by the Korea Tourism organization and Korean Air in Hong Kong. ELF ASIA is the organizer for the "ZE:A Asia Tour 2011 in Hong Kong".
(1) All holders of HK$880 tickets are advised to arrive at the venue early to get their tickets verified at the registration booth before the event begins. The "Face-to-Face" autograph session will be held after the show.